Project Interdependence
Project Interdependence was established in throughout California as a response to the 1981 invitation of the United Nations "International Year of Disabled People". The Director of the CA Department of Rehabilation, Ed Roberts, commissioned William Bronston, MD, the Medical Director of the Department to invent a model program to address youth culture, challenge the toxic prejudice, stigma, low expectations and stereotypes associated with "disability".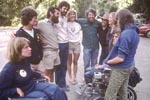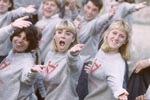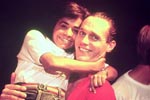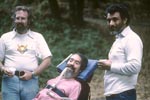 Hundreds of teen youth, from 25 school districts who had established a partnership with the Department of Rehabilitation, were seen as the essential force, who with proper understanding could transform society. A small team of progressive and skilled organizers from the Department of Rehab and the California Department of Education mounted the 7 day and night, adventure based training models.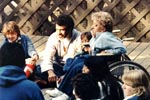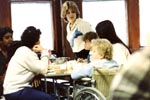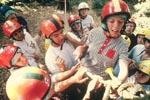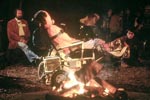 Discover Interdependence was the introductory outdoor adventure based experience. This was followed by Win Interdependence a fully integrated, age and culture appropriate model week aimed to explore careers in the sports industry. Each invited teams of 100 high school youth, half with disabilities, half without, to spend a full week together in creatively designed day and night sessions that challenged all their learned attitudes about their values and aspirations for the future.
The power of these Interdependence events was profound. All the participant youth were moved to their core returning to their respective schools and communities with indelible social justice convictions, new friendships, and an unforgettable life experience that would color their lives and roles as students and future citizens.
Discover Interdependence (Video)
A Documentary about Youth With and Without Disabilities Learning and Working Together
Project Interdependence Photo Albums
The photographs in this album were taken during a week long retreat for youths from California. The second year of the integration, organizing and youth empowerment model held at the YMCA Camp above Half Moon Bay, California. Discover Interdependence movie, narrated by Edward James Olmos and Bree Walker occurred at this event.
These photographs in this album are from a week long retreat for youths in California. To promote participation of California's high school youth and their teachers in sports and to expand career pursuits in the sports industry.