Testimonials

Alabama
Partners in Policymaking received the LOTUS Award from the Women's Committee of Spain Rehabilitation Center. This is a most prestigious and competitive award.
---
From 1994 Partners graduates:
We protect the rights of the not so strong, to help them out when a right has gone wrong.

To make lives hurt free as we can, is what we'll do for any woman, child, or man.

Our goal is simple, but it covers a very large ground, no one is forgotten, not for many roads around.

So if you're ever turned down, we'll fight your cause until justice is found.

Please give us a call and state your case; Partners will get on it, like running a race.

What I learned from Partners. This will all be possible when the public is also informed.
---
Tina Perrault is a graduate of the Alabama Partners in Policymaking program. She wanted to pass along some of her knowledge and skills about the state legislative process to her son, Bobby, and so arranged for him to serve as a page for Alabama State Senator Bradley Byrne.
---
Darryl is 45 years old and lives in a small, rural, home with his parents. Rarely did he travel very far; he had no friends, no dreams, no visions, no opportunities. After Partners, Darryl has begun to plan independent living options; investigate employment possibilities and step out of his home and into his community with confidence!
---
Alabama Partners in Policymaking Class of 2005
---
Article on the Alabama Council for Developmental Disabilities Partners in Policymaking program (Acrobat pdf).
---
Networks are established and strengthened, and long term partnerships and friendships are created among Partners participants and graduates. This Motley Crew of Alabama Partners graduates, with one exception, recently made a trip to Graceland. Jayne Chase, the Alabama Partners coordinator (far right in the photo), shared a bit of their Graceland experience. The woman sitting directly behind Jayne is from South Carolina. She left her party and joined the Motley Crew because they were having so much fun.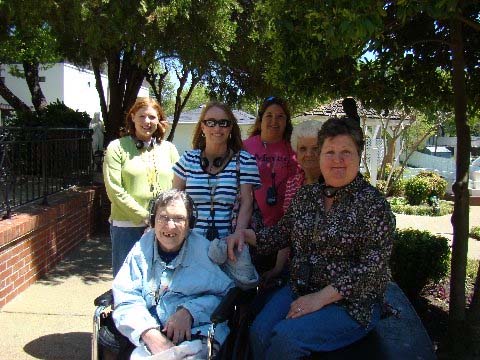 We had persuaded Florence to get her own place which she would dearly love, had all the supports worked out and then those wretched people told her that she could be sitting for hours without anyone coming to get her up and all that scary stuff and Florence got scared to do it. Florence hates it there, she does not even get to decide what to eat or when to eat. We all became friends BECAUSE OF PARTNERS and this is the group that went to Vegas. We come from every corner of the state.

We had just gotten to Graceland, got Florence in her chair ready to buy our tickets and her chair broke, I mean the metal tubing that criss-crossed underneath popped and broke. It is a miracle she was not hurt. We just all loaded up, found a thrift store and bought one for $30 bucks, and left the broken one in Graceland parking lot.

As I have said so many times before, the things that come out of Partners that cannot be measured on paper....