SWIFT Update November 14, 2019


Sneak Peek: Approvals, WorkCenters, and My Favorites

When you login to SWIFT in December, you'll see new navigation and look for SWIFT. New changes include an Approvals tile for approvers, new WorkCenters in several modules, and a new way to save and use your favorites.

Approvals tile

The Approvals tile will replace the Worklist in SWIFT. It will not affect how most approval processes are completed. When approvers login to SWIFT, they will see an Approvals tile on their My Homepage. Approvers can see how many transactions that they need to review and approve. They can also see that if they have transactions in the their Actions tab. 
WorkCenters

WorkCenters provide a centralized place where you can access frequently used pages, links, queries, reports, and processes. Options that you see in a WorkCenter depend on your security roles. Here is a list of the WorkCenters.
Accounts Payable WorkCenter

Asset Management WorkCenter

Billing WorkCenter

Buyer WorkCenter (Purchasing modules)

Contract/Sourcing WorkCenter (Supplier Contract and Strategic Sourcing modules)

GL/KK WorkCenter (General Ledger/Commitment Control modules)

Grants WorkCenter (Grant Management module)

Project WorkCenter (Project Costing module)
Receivables WorkCenter (Accounts Receivable module)
---
Save SWIFT Favorites

IMPORTANT! The SWIFT upgrade will not bring forward your favorites, your frequently used pages in SWIFT. Please review your current favorites now. Consider taking a screenshot or making a list of current My Favorites in SWIFT before the upgrade on December 2, 2019. 
After the upgrade, you can save your favorites from the Actions list. When you are in a page you wish to save to your favorites, select the Actions list icon from the top menu. Then, select Add to Favorites.
 

To find and use your favorites, open up NavBar icon from the top menu. Then select My Favorites. SWIFT will display the favorites you saved after the upgrade.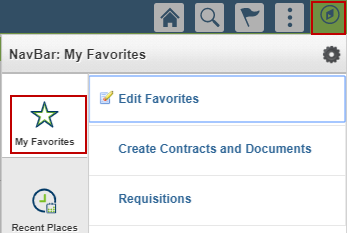 For information about training resources for the upgrade project, see the Training Guides and Resources web page.
For more information about the project, see the SWIFT, Self Service, and Administrative Portal Upgrade website.  Make sure you are ready for the upgrade using the Are You Ready for SWIFT Checklist.

---
SWIFT Help Desk
Contact the SWIFT Help Desk for any questions, concerns or issues you have with SWIFT:
651-201-8100, option 2 or by email  SWIFTHelpDesk.MMB@state.mn.us
Hours: 7:30 a.m. to 4:00 p.m., Monday through Friday; closed holidays.
When emailing the SWIFT Help Desk, be sure to include all details regarding the issue. Information to include with your message:
Issue Description
Business Unit
Module (Accounts Payable, Purchase Orders, etc.)
Transaction ID (Voucher ID, PO ID, etc.)
Error Message Print Screen
Additional assistance can be found on the SWIFT Reference Guide page.
SWIFT Update Mailing List
The SWIFT Update is sent to the SWIFT Newsletter subscription list. Use the links at the bottom of the page to subscribe or unsubscribe to the SWIFT Newsletter subscription list.
Printing the SWIFT Update

If you are experiencing issues printing this update, download a PDF version and print that version