SWIFT Update July 27, 2017
Update: Allotments Balance w/in Approp Report
It's that time of year again. This coming Tuesday many agencies will be running SWIFT reports to capture July month end activity and prepare for hard close. Because the report volume is substantially higher at the end of July, some users may experience problems when running reports.

If you run the SWIFT Allotments w/in Approp report, it may run to "Blocked" status as shown in the below print screen. This is because these reports often include many appropriations and use a great deal of system resources.

WARNING! If your report is "Blocked" do not re-run the report. The process will wait for resources to become available and will run at a later time.

To reduce the occurrence of this problem, please try to avoid running the SWIFT Allotments w/in Approp report for many appropriations. You could also consider obtaining month end data by using the OBIEE Dashboard: Commitment Control and General Ledger Snapshot Version reports.
---
Purchase Order Close Scheduled for July 28th
The PO Recon (PO Close) job will be run in the nightly batch the weekend of July 28th. The PO Reconciliation job closes purchase orders that have been fully matched by setting the status to "Complete". See the SWIFT Procurement Year End Processing Tips for additional information.

Reminder, you can prevent the PO Recon job from closing a purchase order by clicking the "Hold From Further Processing" checkbox on the PO header page should you plan on increasing the order at a later date.

---
Procurement Card Reconciliation Link is Disabled
Agency staff who receive the SWIFT email with the Procurement Card reconcile link will find that the link does not currently work.  



SWIFT is working on a resolution.  We will send out notification once we resolve the issue.

In the meantime, please login directly into SWIFT to reconcile your Procurement Card transactions.

•    Navigation:  Purchasing, Procurement Cards, Reconcile, Reconcile Statement. 
•    Select your Role Name from the drop-down menu. 
•    Enter your Employee ID and select Search. 
•    SWIFT will bring you to the page with your transactions.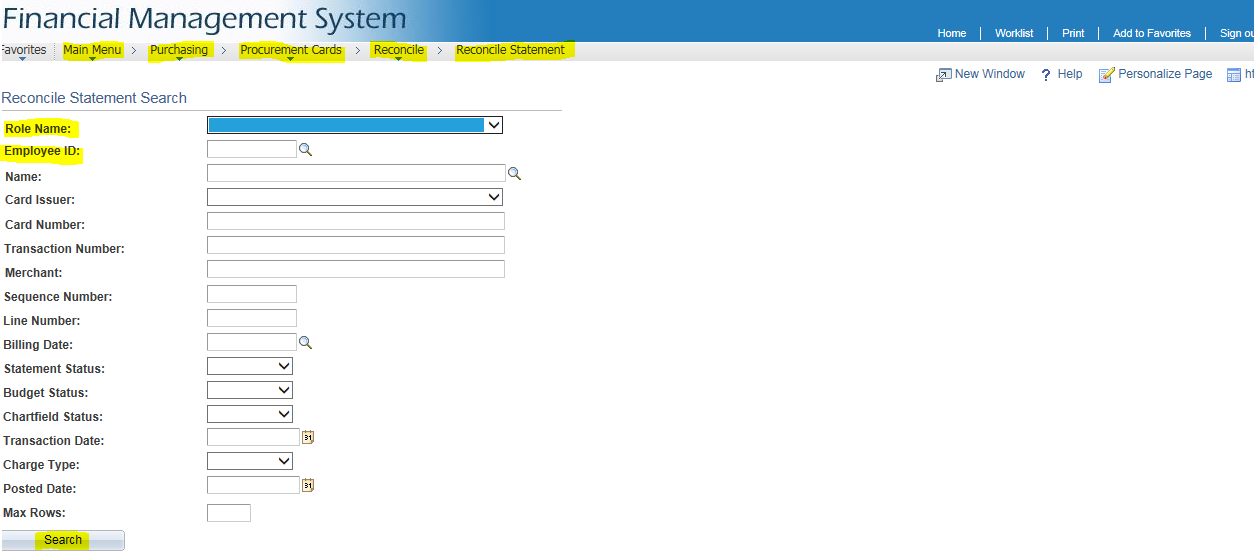 ---
Update on SWIFT Classroom Training
The SWIFT training team does not offer classroom training in the summer.  We rebuild our training databases each summer to mirror the most current fiscal year's financial accounting fields.  Please look for SWIFT classroom training in early September.

There are some limited SWIFT training options offered online only.  All SWIFT classes are free of charge and open to everyone. Find and enroll in online training options by opening Employee Self-Service and selecting the Enterprise Learning Management (ELM) folder. On the Search for Learning section, enter the keyword "SWIFT" and click Search. 


---
SWIFT Help Desk
Contact the SWIFT Help Desk for any questions, concerns or issues you have with SWIFT:
651-201-8100, option 2 or by email  SWIFTHelpDesk.MMB@state.mn.us
Hours: 7:30 a.m. to 4:00 p.m., Monday through Friday; closed holidays.
When emailing the SWIFT Help Desk, be sure to include all details regarding the issue. Information to include with your message:
Issue Description
Business Unit
Module (Accounts Payable, Purchase Orders, etc.)
Transaction ID (Voucher ID, PO ID, etc.)
Error Message Print Screen
Additional assistance can be found on the SWIFT Reference Guide page.
SWIFT Training
To find SWIFT training, open Employee Self-Service and select the Learning folder. Then, search the Catalog using the keyword "SWIFT" to find and enroll in classes currently scheduled. Classes are free of charge and open to everyone.
SWIFT Update Mailing List
The SWIFT Update is sent to the SWIFT Newsletter subscription list. Use the links at the bottom of the page to subscribe or unsubscribe to the SWIFT Newsletter subscription list.