Purchase Order Close Scheduled for Hard Close Weekend
As part of the year end clean-up activities, the PO Recon (PO Close) job is scheduled to run the weekend of August 15th. The PO Reconciliation job closes purchase orders that have been fully matched by setting the PO status to Complete. See the SWIFT Procurement Year End Processing Tips for additional information. Remember you can prevent the PO Reconciliation job from closing a fully matched order by clicking the "Hold From Further Processing" checkbox on the PO header page should you plan on increasing the order at a later date.


PO Voucher Budget Dates
When creating vouchers from purchase orders, MMB highly recommends using the Copy Selected Lines button on the Copy Worksheet page. This ensures that the budget date from the PO is brought into the voucher distribution line and can only be changed by the user.

If the Copy PO button or Copy Entire Document button on the Copy Worksheet page is used, the budget date is also brought in from the PO; however, there is a possibility that the budget date could get overwritten if the goods and services received date is changed.

The illustration below shows how to access the Copy Worksheet page.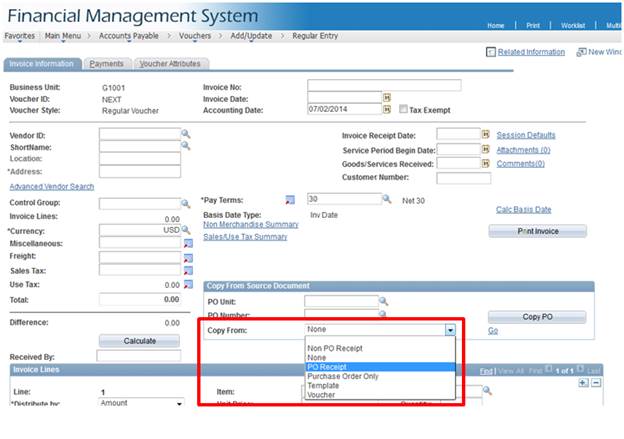 A new query is available to provide additional voucher information, including budget date, for use when approving vouchers (M-AP-GBL-APPROVER-WORKLIST ).


SWIFT Help Desk
Contact the SWIFT Help Desk for any questions, concerns or issues you have with SWIFT.
651-201-8100, option 2; Hours: 7:30 a.m. to 4:00 p.m., Monday through Friday; closed holidays.
Additional reference information can be found on the SWIFT website


SWIFT Update Listserv
The SWIFT Update is sent to SWIFT Agency Sponsors/Project Managers/Readiness Coordinators, Chief Financial Officers, SWIFT Project Team, SWIFT Steering Committee, and Agency Training Managers. It is also sent to a larger listserv composed of SWIFT end users - to be removed or added to this SWIFT Update list, go to the SWIFT Newsletter List