Future Minnesota Veterans Homes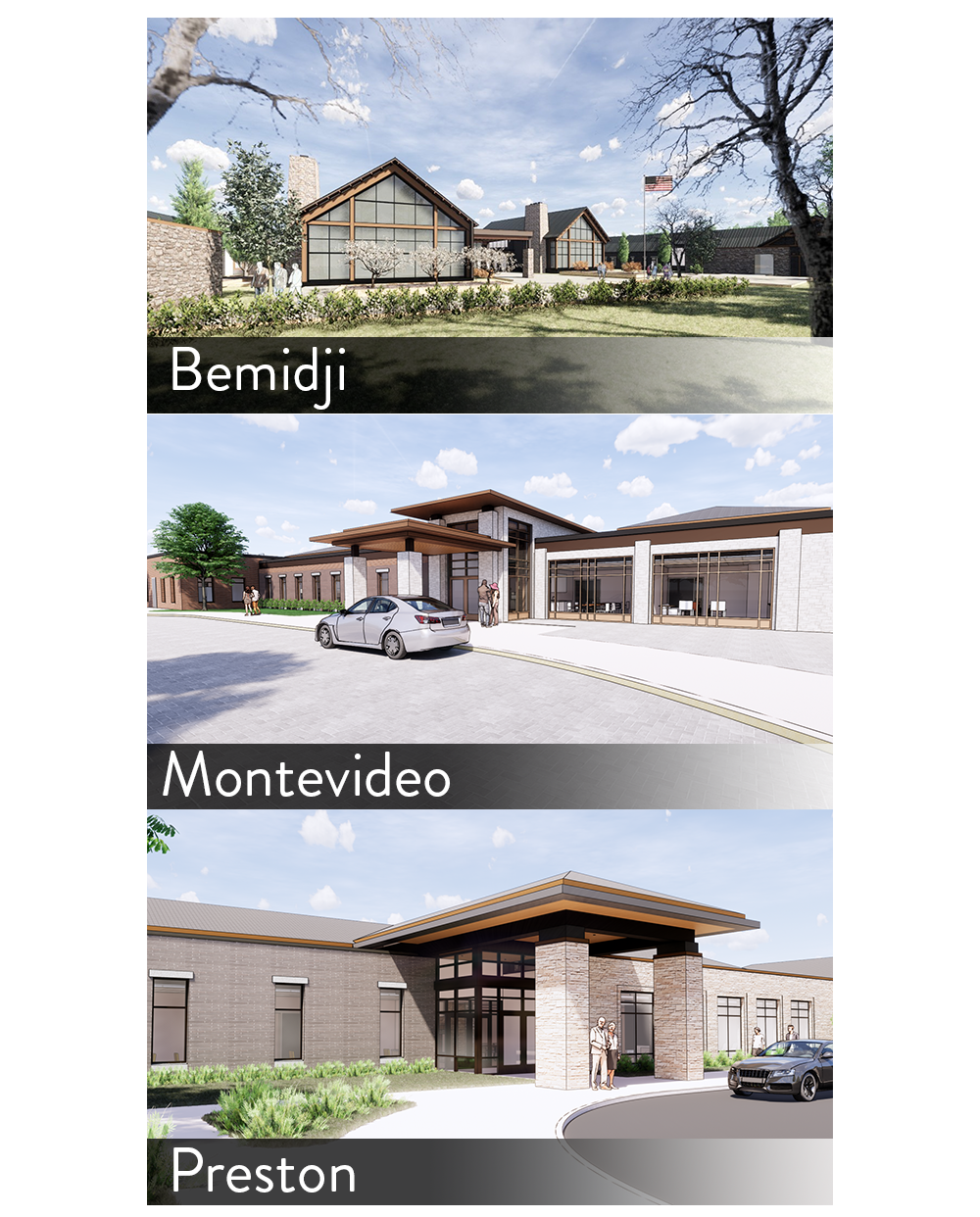 MDVA is building three new State Veterans Homes in the communities of Bemidji, Montevideo and Preston. Construction began in fall 2021; we anticipate all three locations will open in the summer of 2023.
The new Bemidji Veterans Home will serve 72 Residents and will be located at 920 Anne Street NW. The Home will sit on 14 acres of land donated by nearby Sanford Health.
The new Montevideo Veterans Home will also serve 72 Residents and will be located at 2190 William Avenue at the corner of William Drive and County Road 15.
The new Preston Veterans Home will serve 54 Residents and will be located at 1112 Overlook Drive.
Hiring
Hiring for the new Homes will begin later this year. The Home Administrators and leadership teams will be hired first. Homes leaders will then begin the hiring process for all staff in preparation for a mid-2023 opening. If you are interested in a future career in a Minnesota Veterans Home, we encourage you to sign up for our quarterly Careers Update email. See the link in each Home's detailed tab below.
Resident Applications
Resident applications will be accepted starting September 15, 2022 at 8 a.m. The application form is available on our admissions information page. The form can also be obtained from a County Veterans Service Officer or upon request via email or U.S. Mail by contacting MDVA at NewHomesAdmissions@state.mn.us.
Eligible Residents come from two categories:
Eligible Veterans
Spouses of eligible Veterans
If you have questions regarding the application and waiting list process, please reach out to NewHomesAdmissions@state.mn.us or visit the Minnesota Veterans Homes admissions page on our website for more details.
Additional Information
During the 2018 Legislative Session, the Minnesota State Legislature allocated $32 million in Chapter 214, HF 4425 of the Omnibus Bonding Bill for three new State Veterans homes. The funding breakdown includes:
$12.4 million for the Bemidji Veterans home project
$9.4 million for the Montevideo Veterans home project
$10.2 million for the Preston Veterans home project
In May 2022, the first Veterans-specific Omnibus Bill in the modern legislative era was signed into law. It included more than $26 million in additional construction funding for the three new Minnesota Veterans Homes. These appropriations will cover construction escalation costs and enable MDVA to outfit the new Homes with furniture, fixtures, equipment and enhanced exterior amenities.
MDVA leaders have worked closely with local elected officials and Veterans' stakeholders for many years on planning the new Veterans Homes. The communities of Bemidji, Montevideo and Preston have been very engaged in the process, donating land for the building sites and raising additional funds to support amenities for their new Homes.
Wold Architecture worked in partnership with Perkins Eastman to complete all planning and design for the MN Veterans Homes.
General Contractors are Adolfson & Peterson Construction for Bemidji, and Knutson Construction for both Montevideo and Preston. Each General Contractor was responsible for soliciting sub-contractors and focused on hiring a significant percentage of employees from the local communities.
More information regarding these homes can be found in our Frequently Asked Questions page.