COVID-19 and Civil Rights
COVID-19 does not discriminate based on race, where you come from, your immigration status, or anything else. Yet, one of the disconcerting aspects of the COVID-19 crisis is the continued rise of xenophobia and racism.
Discrimination based on someone's race, ethnicity, or other protected class is prohibited.
Viruses don't discriminate and neither should we. Help spread this message!
Report Discrimination
Amid rising reports of discrimination from the Asian American community, Governor Tim Walz and Lieutenant Governor Peggy Flanagan launched a Discrimination Helpline at 1-833-454-0148. This helpline reinforces the state's efforts to protect the civil rights of Minnesotans. 
The helpline allows those who experience or witness bias and discrimination to report incidents to our Department.
You can call the Discrimination Helpline or submit this form. The helpline is staffed Monday through Friday, 8:00 a.m. to 4:30 p.m. Translation/interpretation services are available.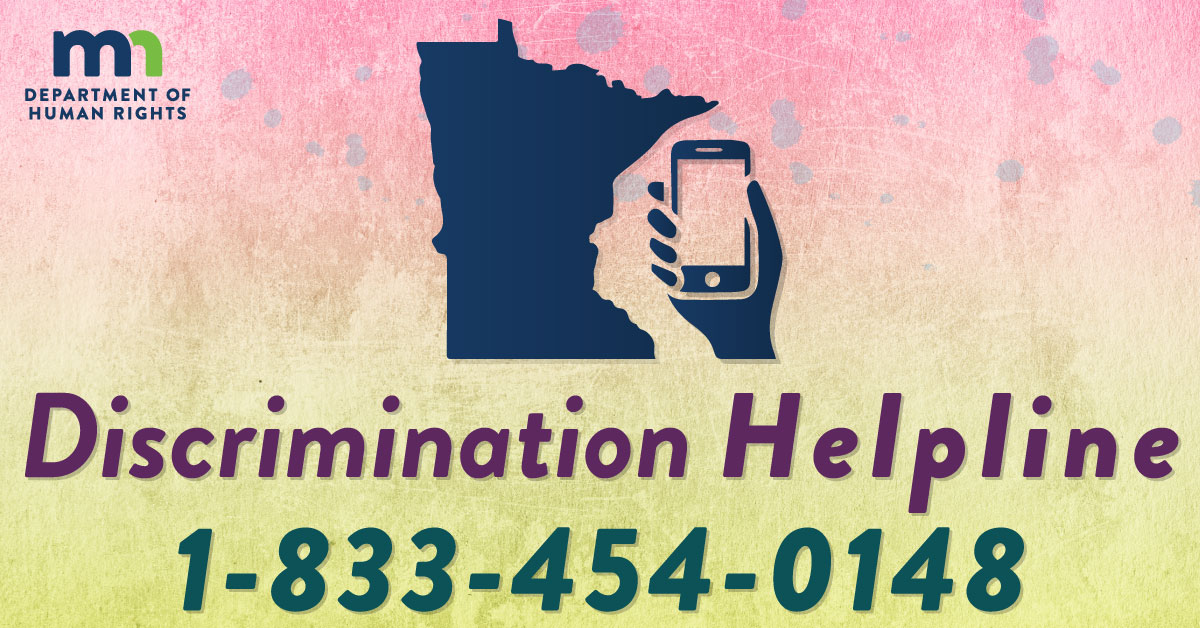 Help spread the word about the helpline in 17 different languages by sharing:
Graphics for social media and websites
Social media content
Info to share in an upcoming newsletter
Worker Protections
Worker Protection Fact Sheets: English, Hmong, Somali, and Spanish
Request an accommodation if you have a disability or health condition.
Workers who have a disability, including individuals with health conditions such as diabetes or a compromised immune system, can request a reasonable accommodation. Take these steps to request an accommodation:
Talk to your employer and propose an accommodation such as shifting your working hours, moving your workstation, or working from home, to ensure you can do your job while not compromising your health. Many employers are finding creative and flexible solutions to protect employees with disabilities, underlying health conditions, and mental illness.

If you need assistance or were denied a reasonable accommodation, call the Minnesota Department of Human Rights' Discrimination Helpline. 
All workers who are able to work from home must continue to do so.
If you are told to return to the office or have been going into the office but can clearly complete your work from home, take these steps:
Inform your employer that returning to work violates the Governor's Executive Orders and that you will be working from home so you do not violate the Governor's orders. 

Contact the Work from Home Violation Helpline by phone: 651-539-1132 or toll free at 833-454-0152, or by email: WFHviolations@state.mn.us

File your own lawsuit against your employer under the state's whistleblower law, if your employer retaliates against you for working from home or reporting the violations to the Department of Public Safety. 
Unemployment Insurance  
With COVID-19 forcing thousands of Minnesotans to apply for unemployment insurance, we want to remind employers that they cannot fire, refuse to rehire, or penalize employees because they applied for or received unemployment insurance. Under the Minnesota Human Rights Act, it is illegal to discriminate against an employee because they have applied for or received public assistance. 
If you were fired, not rehired, or treated differently than other applicants or employees because you applied for and/or received unemployment insurance during COVID-19, call the Discrimination Helpline. 
Housing Protections
Your landlord cannot discriminate against you, kick you out, or ask you to leave your apartment because of fears and stigma around COVID-19, including discrimination on the basis of actual or perceived race, national origin, disability, or other protected classes. 
Housing Protection Fact Sheets: English, Hmong, Somali, and Spanish
Executive Order 20-39 
On Wednesday, April 22, Governor Walz signed Executive Order 20-39 that ensures Minnesotans' civil rights are protected during the COVID-19 Peacetime Emergency. Minnesotans whose deadline to file a charge with the Department that would have expired during the peacetime emergency now have until 60 calendar days after it ends to do so. The executive order also:
Extends deadlines for respondents to submit answers to charges of discrimination;
Extends deadlines to appeal Department determinations; and
Ensures all parties are able to better engage with the Department despite the disruption caused by the pandemic. 
Other Resources