Transportation
Northeastern Minnesota's transportation system connects the region to local, regional, national and international markets. Airports, roadways, rail lines and a world-class port move the region's imports and exports, and make business and recreational travel easy and convenient.  Transportation Map 

Airports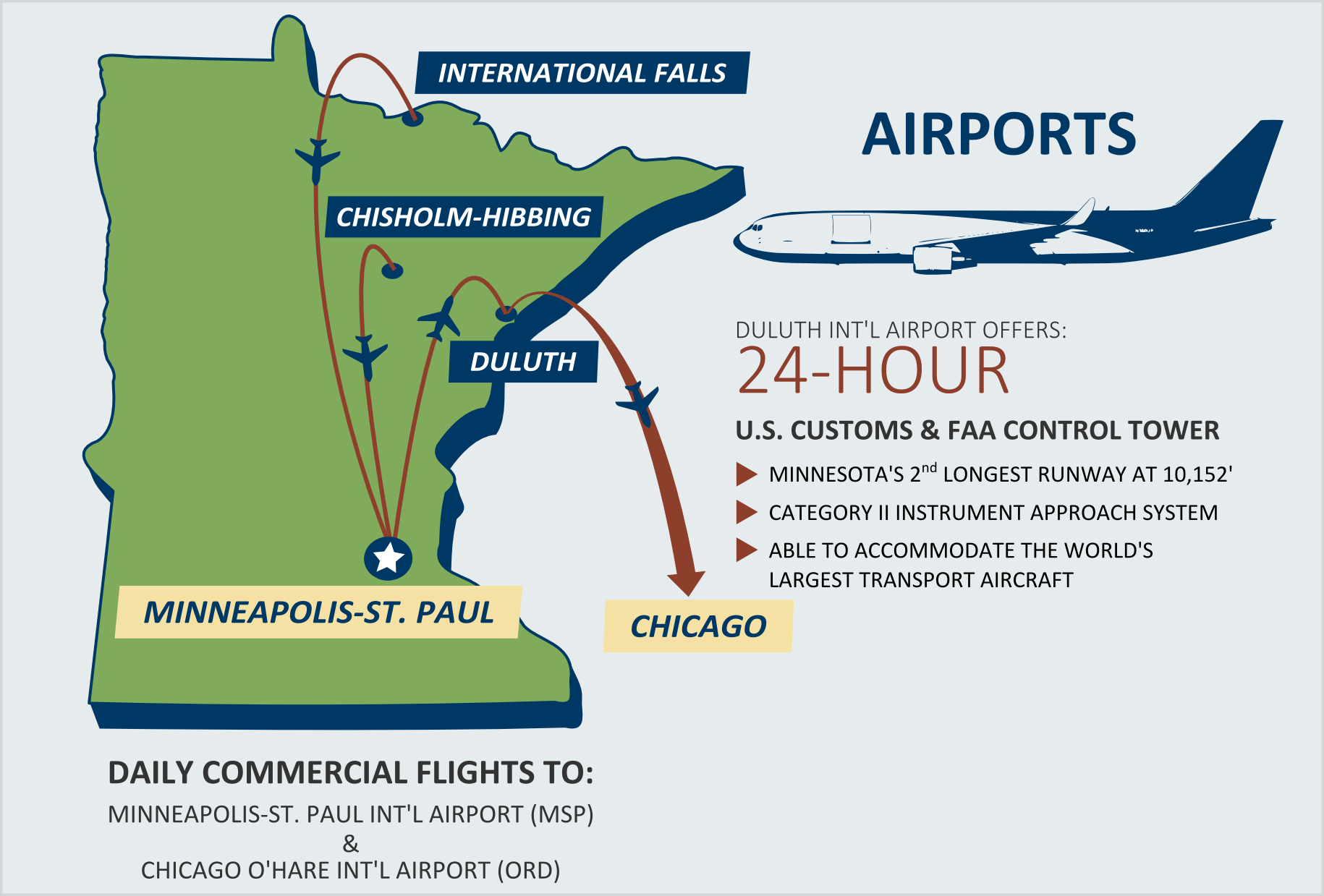 For travel by air, the Range Regional Airport-Chisholm/Hibbing and the Duluth International Airport provide daily access to and from Minneapolis and other midwestern cities, plus national and international connections to flights via commercial air service. Other small regional airports offer services for both private and charter travelers.
Aitkin Municipal Airport
(218)927-2527
Bigfork Municipal Airport
(218)743-3640
Cook County Airport - Grand Marais
(218)387-3024
Cook Municipal Airport
(218)666-9931
Duluth International Airport
(218)727-2968
Ely Airport
(218)365-5600
Eveleth-Virginia Municipal Airport
(218)744-1428
Grand Marais Cook County Airport
(218)387-3024
Grand Rapids Itasca County Airport
(218)326-0893
Orr Regional Airport
(218)757-9994
Range Regional Airport-Chisholm/Hibbing
(218)262-3451
Richard B. Helgeson Airport, Two Harbors
(218)834-2162
Silver Bay Municipal Airport
(218)226-3542
UPS, FedEx and other freight carriers provide daily air transportation of packages in and out of a number of regional airports.

Highway
Most major northeastern Minnesota communities are connected by a four-lane highway system and have easy access to state and federal roads, making travel and truck transportation more efficient. Highways 2, 53, 61 and 169 are major routes for U.S. and Canadian trucking companies that move wood products, agricultural products and other goods. These roads are part of a well-established highway network providing access from the Canadian border to Duluth, Minneapolis/St. Paul, Wisconsin, North Dakota and the rest of the country.
The many top-notch trucking services based in the region know that this type of easy access to major highways is important to the viability of their businesses.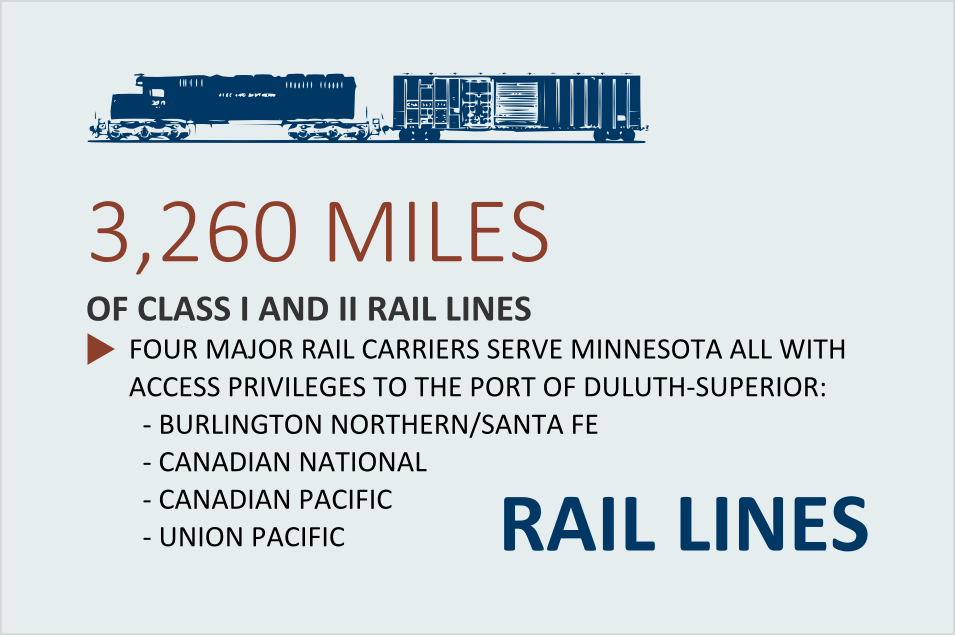 Rail 

Railroads crisscross the landscape of northeastern Minnesota, providing major hauling and shipping capacities for area manufacturers and industries. Rail/water intermodal facilities serve Lake Superior providing worldwide shipping access through the Great Lakes - St. Lawrence Seaway route. Duluth, the inland terminus of the St. Lawrence Seaway connection to the Atlantic Ocean, is the largest port on the Great Lakes, and the 20th largest port in the United States. Four major rail carriers serve northeastern Minnesota.
Shipping
The Duluth-Superior Port on Lake Superior is consistently ranked among the nation's top ports based upon tonnage. Nearly 40 million metric tons of bulk and packaged general cargo pass through the port annually. Outbound ships carry more than 17 million tons of taconite pellets and iron ore from Minnesota per year, along with millions of tons of other commodities destined for eastern U.S. markets and foreign ports via the Great Lakes and the St. Lawrence Seaway. The port's 15 cargo terminals are visited annually by over 1100 vessels. Several commercial shipping lines have headquarters or local offices in Duluth, and can assist with your business's water-based transportation needs.