The movement to have a separate school for delinquent girls gained support from the press, public officials and institution administrators, and the Minnesota Home School for Girls was authorized by the legislature. In 1908 Sauk Centre was named as the site for the school.
Probate courts were given juvenile court jurisdiction in the 84 counties without juvenile courts.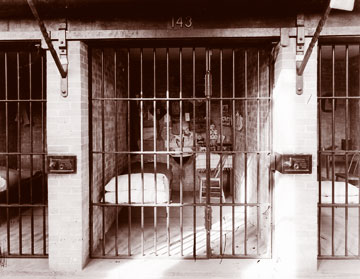 Cell 143 at the State Reformatory in 1910
1911
Capital punishment was abolished by the legislature, substituting life imprisonment for "death by hanging."
Indeterminate sentences were established. Any person convicted of a felony was sentenced for an indeterminate period and could be kept under the jurisdiction of the Board of Control as long as necessary, but not to exceed the maximum provided by law. The Minnesota Home School for Girls at Sauk Centre opened.
1912
A new state prison was approved to be built at Bayport and construction began.
State Reformatory under construction in 1895

The Children's Code was enacted to protect the rights of children and embodied a modern approach to their proper handling.
1914
The new prison at Bayport opened to replace the State Prison at Stillwater, thus eliminating problems concerning space and living conditions. With the pressing need for a more modern facility met, more money and attention could be devoted to providing increased educational and recreational opportunities for inmates. Prison industries grew rapidly. Experts at the time considered the prison to be one of the most modern penal institutions in the world.

On March 4, at a legislative hearing at the State Capitol, Mrs. Isabel Davis Higbee made a plea for establishment of a reformatory for women. She argued in favor of a new institution where women offenders would neither be incarcerated with male inmates nor with teenage girls. At the conclusion of her talk, Mrs. Higbee collapsed and died. On March 10, the legislature passed a bill authorizing establishment of the women's reformatory. At the time, the majority of women law-breakers were found guilty of prostitution and were usually fined and sent home or committed to the workhouse for a short term. Others were sent to the State Prison, the State Reformatory or the girls' school. The superintendent at the reformatory took women inmates into his home or placed them in the local jail.

Construction of the longest granite wall in the world built using prison labor was completed at the State reformatory. The wall is over one mile long, 22 feet high, four and one-half feet thick and constructed from granite quarried within the prison grounds.
1917
The indeterminate sentence was modified to allow the sentencing judge to specify the maximum sentence.
1920
The Minnesota State Reformatory for Women officially opened, receiving its first inmates transferred from the State Prison at Stillwater.
State Prison at Bayort in 1926