Somali elders participate in DHS, Bush-sponsored community engagement event
Seventy Somali elders talked about their needs for care and desires for community and social activities to live a healthy and safe life in their own homes, in one of a series of community engagement sessions under way with members of the racially diverse communities DHS serves.
The event was hosted by DHS Oct. 11 at the Brian Coyle Community Center in Minneapolis with funding from a Community Innovation Grant from the Bush Foundation. DHS is among 30 organizations the Bush Foundation selected in May 2015 to receive the grant.  The $75,000 grant, along with $58,500 from DHS, is being used over the two years to train DHS employees and representatives from communities served by DHS to co-lead community engagement events. The goal of the events is to build DHS's capacity to authentically engage communities it serves, with a particular focus on communities that experience disparate outcomes in public programs.  
Previous events focused on the impact of historical and current trauma on American Indians' relationship with government agencies and persistent disparities in outcomes between African American and American Indian Minnesota Family Investment Program recipients and recipients of all other races. These events were hosted by the Community Supports and Children and Family Services administrations, respectively, and engaged American Indians from across the state and African Americans from St. Paul's Rondo Neighborhood.
Older Somali residents in the Minneapolis Riverside neighborhood at the Oct. 11 event have or are participating in publicly paid home and community-based services, including the Elderly Waiver, Alternative Care and home care.  Trained Somali interpreters asked detailed questions about the elders' aging needs and caregiving at home, current social activities, what they would like to do that they don't do now, what services they currently use most and which others would be helpful.
Elders, particularly women, shared that they rely primarily on children, family and relatives and personal care attendants for help. They find it difficult to do housekeeping, laundry, shopping to personally choose groceries, cooking and walking outside in the winter. In addition, due to language barriers, it is hard for elders to read their mail and receive calls. Elders also expressed strong interest in staying active.  With more help and resources, they would like a membership at a gym where they could participate in group activities such as walking and swimming, as well as ways to get therapeutic care, such as chiropractic, massage and acupuncture. Men talked about lack of job opportunities for elders and immigration.
Somali elders said they often feel restricted within their housing complex. Having more transportation would help them be more active and feel more "alive." Several wished for outings to visit Mall of America and the zoo, as well as farms, to see and touch animals such as goats and cows. A few would like to go more often to an adult day center. 
"We really enjoyed our time with the elders and will benefit from the experience," said Kari Benson, director of the DHS Aging and Adult Services Division.  "The responses will help to shape our future work in delivering services to Somali elders that meet their needs and preferences."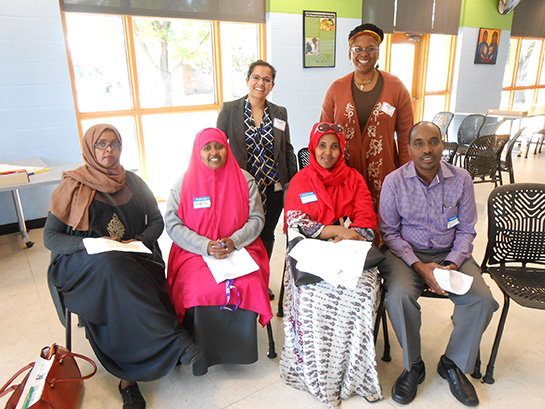 DHS staff and Somali interpreters participated in a community engagement event with Somali elders.  From left are facilitator/interpreter Fouzia Abdishakur and Safia Husuf, Roshani Dahal, interpreter Fadumo Yusuf, Nancy Lee and interpreter Haasan Ibrahim. Dahal and Lee are staff DHS Continuing Care for Older Adults Administration staff members.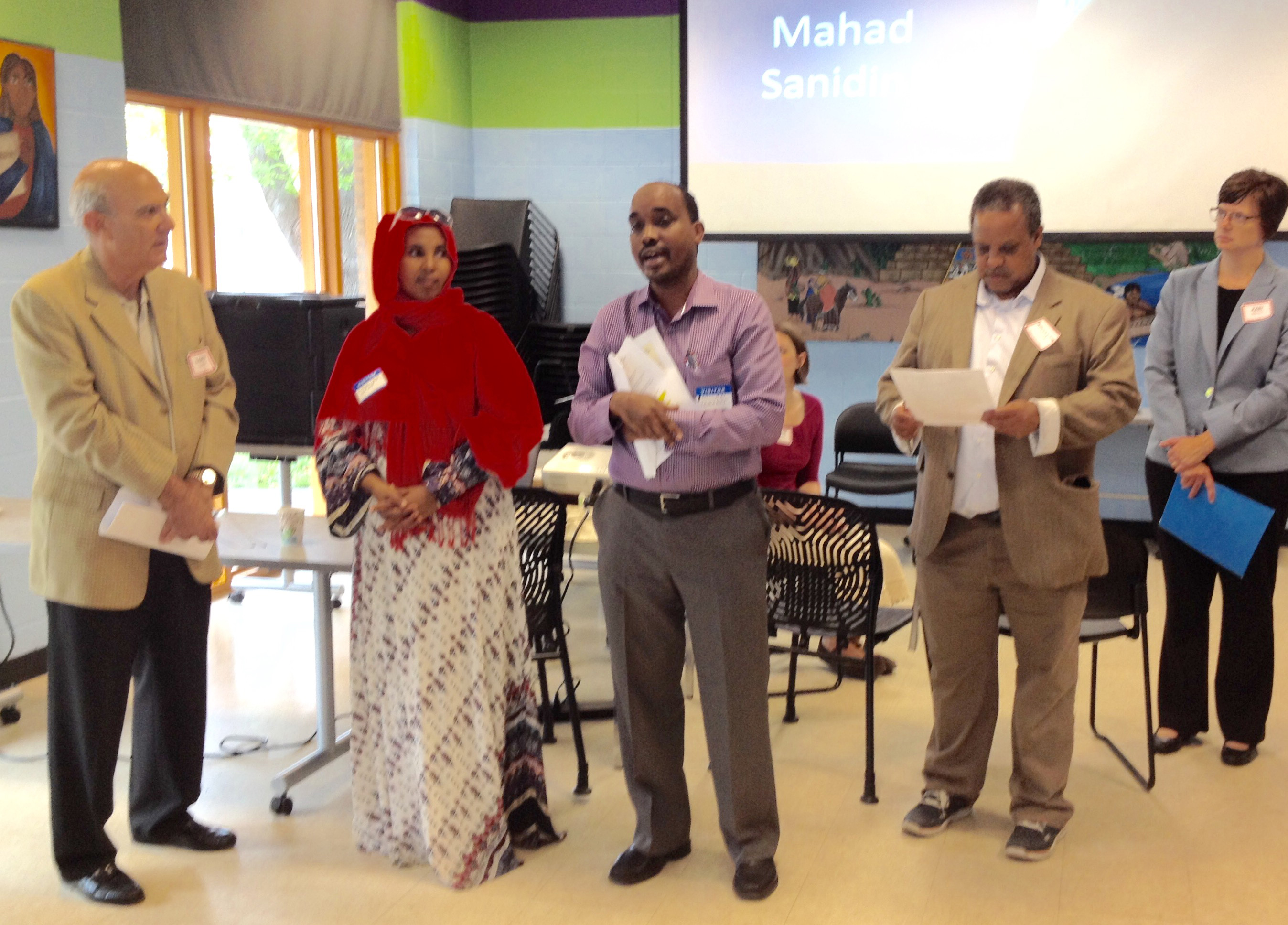 Welcoming elders to the event are Loren Colman, assistant commissioner of the DHS Continuing Care for Older Adults Administration, interpreter Fadumo Yasuf, facilitator/interpreter  Hassan Ibrahim, Abdullahi Sheikh, senior health and wellness coordinator at the Brian Coyle Community Center, and Kari Benson, director of the DHS Aging and Adult Services Division and executive director of the Minnesota Board on Aging.