Member Profiles
Daniel Ashman
I am a passionate project coordinator and advocate for the blind, who has worked within most every sector of the blindness rehabilitation field. I have over 15 years of blindness rehabilitation experience with 3 years as a Special Projects Coordinator, managing many simultaneous projects at once. I have extensive involvement in developing new and innovative city- and state-wide projects and revitalizing projects to meet the evolving needs of the rehabilitation community sectors. As a project coordinator, I actively consultant on accessibility projects with different state services, the Department of Health, and art galleries and museums. I enjoy developing community partnerships which encourage the growth of government and corporate accountability, inclusion, and expectations.
With a degree in Fine Arts and a juxtaposing analytical mind, I am able to use both creativity and solution-oriented thinking to approach situations with new insight. Having significant experience working with youth transition programming in Virginia, I helped originate a state-wide response to the Workforce Innovation Opportunity Act (WIOA). In doing so, I strove to create an environment which supported and facilitated independence through an employment positive culture among the blind community. I worked with the city of Salt Lake to provide feedback and disability awareness for the remodeling of downtown major thoroughfares and corridors. At present, I work in cooperation with state and local health entities to directly respond to and address the longstanding access barriers and health inequities made worse by the COVID-19 pandemic. In doing so, I work to bring equity, accessibility, and awareness to the forefront of the state's COVID-19 response and plan.
Frank Eller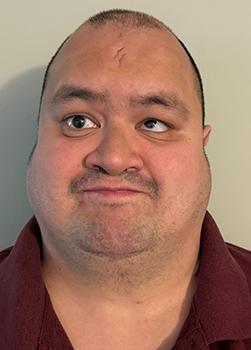 Hello, my name is Frank Leonard Eller. I am originally from the Turtle Mountain Band of Chippewa Indians reservation, located in the town of Belcourt, North Dakota. I was born with no optic nerve for my left eye, which means that I have been totally blind in my left eye since birth. I was born with only half or part of the optic nerve for my right eye, so therefore I had partial sight in my right eye, for the first twenty-six years of my life. I eventually lost all the vision in my right eye when the optic nerve in that eye began to deteriorate, starting in the year of 2013. By 2017 I had lost all the vision in my right eye, two months after my twenty-sixth birthday.
My educational background includes a diploma from Turtle Mountain Community High School, as well as an Associate of Arts degree from Turtle Mountain Community College. Now I am working towards a double major in Political Science and Psychology at the University of Minnesota Twin Cities.
Throughout my life I have received various forms of blindness training, including Orientation and Mobility, Braille, technology applications, and life skills. I have also performed a semester of volunteer work for the Disabled Student Cultural Center at the University of Minnesota Twin Cities.
I am so excited to be a part of the State Rehabilitation Council for the Blind of Minnesota, because I feel that this council will be a great opportunity for me to become an advocate for people who are blind or visually impaired.
Tom Heinl
Tom Heinl is a 79-year-old blind man who has been blind for over 50 years. He has been a lifelong resident of St. Paul and Maplewood. He was employed for 30 years with Ramsey County as a Property Tax Information Specialist. He belongs to United Blind of MN. He is a widower and has one son. His hobbies include electronics and computers.
Deborah Leuchovius
Deborah Leuchovius has coordinated PACER projects providing training and technical assistance on secondary transition, vocational rehabilitation, and related issues for youth with disabilities and their families for 30 years. She provides leadership and direction to PACER projects designed to improve post school outcomes for youth with disabilities conducted in collaboration with local, state and national organizations and agencies. Her contributions to the field are in the area of knowledge translation and the dissemination of research-based practices via family-friendly trainings and resources. She is currently focusing on Project Launch, a regional project funded by the Rehabilitation Services Administration that works with parent centers on transition activities in 8 states, and PACER's National Parent Center on Transition and Employment.
Michael O'Day
Michael O'Day, Sr. Manager, Equal Employment Opportunity & Affirmative Action, RBC Capital Markets, LLC. Michael O'Day has nearly thirty-five years of experience in the area of fair employment practices. He is currently Sr. Manager, EEO/Affirmative Action with RBC Capital Markets, LLC. Previous employers include the University of Minnesota, Northwest Airlines and the State of Minnesota. Primary responsibilities over his career include investigating complaints of discrimination and harassment, managing U. S. Department of Labor audits, conducting compliance training, managing diversity recruitment efforts and supervising staff. Mr. O'Day holds a Master's Degree in Human Resources Management and a Bachelor's Degree in Business Management, both from the University of Minnesota.
Judy Sanders
Judy Sanders grew up in Boston and Denver graduated from the University of Colorado where she studied to be a teacher of public speaking and social studies. Judy experienced a rude awakening when the Denver Public Schools would not hire anyone with less than 20/40 vision in the better eye. Judy is not totally blind and could not be considered for employment. It was because of this problem that she discovered the National Federation of the Blind. Through her connection with the NFB she obtained a position as a substitute teacher. Some other careers involved serving as the director of the Minnesota office of Congressman Jerry Sikorski and working with blind children and adults through BLIND, Inc. and State Services for the Blind. Judy is retired and continues to volunteer with NFB. She serves on the Statewide Independent Living Council and the State Rehabilitation Council for the Blind.
Ryan Strunk
Ryan has been an advocate for fellow blind people for his entire adult life through more than twenty years of membership in the National Federation of the Blind. Since 2017, he has served as the president of the National Federation of the Blind of Minnesota, where he has led a variety of legislative and social initiatives. Ryan's advocacy work extends to his professional career as well. He has worked as a political fundraiser, a Braille and technology instructor for the Ho'Opono Center for the Blind in Hawaii and BLIND Inc. in Minnesota, and an accessibility consultant for Target. He currently works as an accessibility manager at UnitedHealthcare.
In his free time, Ryan enjoys music composition and production, and he performs improvisational comedy.
Jeff Thompson
Jeff, the Chair, is a media producer and the driving force behind Blind Abilities. With content created specifically for teens, and college students, as well as working professionals and seniors, Blind Abilities offers podcasts and blog posts featuring assistive tech demos, interviews, tips, tricks and life hacks for blind, DeafBlind, and low vision consumers. Jeff attended the U of M and Minneapolis Community and Technical College (MCTC) where he served as the student body president. Advocating for two-year colleges, Jeff served on the Minnesota State Colleges and Universities Advisory board. He is a graduate of both BLIND, Inc.'s and Vision Loss Resources' adjustment to blindness programs. Before launching Blind Abilities, Jeff worked as a woodworking instructor at BLIND, Inc. Through his teaching and creating content for Blind Abilities, Jeff has firsthand experience of blind, DeafBlind and low vision consumers "from sixteen to sixty" finding the resources and developing the skills to meet their life goals. Jeff and his wife Lori have four children and three grandchildren. When taking a break from Blind Abilities, Jeff still enjoys woodworking as well as yard work and gardening.
Trevor Turner
Trevor is DeafBlind which is caused by Usher Syndrome Type 2A. Trevor Turner currently serves as the Public Policy Director for the Minnesota Council on Disability, advising the state government on disability policy. Trevor was raised on US Air Force Bases around the world but studied at the University of Missouri where he also received bachelor's degrees in political science, international studies, and German. Trevor served as a US State Department fellow in Germany and Peace Corps Masters International Fellow in Armenia through the University of Denver where he received a master's in global finance, trade, & economic integration. Trevor worked for international nonprofits around the world focusing on disability advocacy in over 50 countries before moving to his current role in state government. Trevor lives near downtown Minneapolis with his partner, Tyler and dog Oliver.
Kyle Van Ecker
I've been working with adults and youth with disabilities for over 15 years in several different capacities, primarily as a coordinator and manager of programs providing mental health, residential, and vocational support. I currently oversee Goodwill-Easter Seals' Disability Placement and Retention program for the Metro Area as well as our Youth Heading Home program which helps youth experiencing homelessness find greater stability in their lives. I've specialized in supported employment and mental health and received my Master's in Public and Non-Profit Administration in 2020. I've been a practitioner/trainer of Motivational Interviewing (MI) for around fifteen years. I've trained mental health, educational, and employment counselors in this evidence-based counseling style for around a decade. I am passionate about addressing barriers to employment, housing, and economic independence for marginalized populations, especially people with disabilities, housing insecurity, and the Native American community.