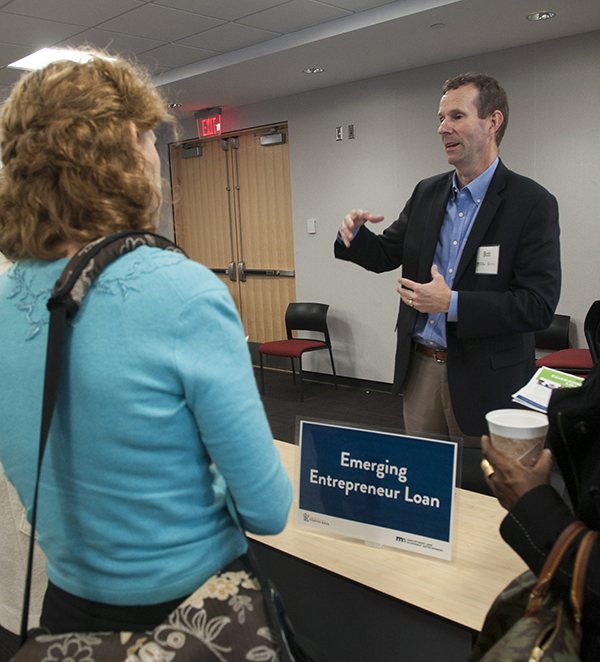 DEED's Startup open house, held Oct. 10 at the First National Bank Building in St. Paul, gave over 70 entrepreneurs, makers and artists the opportunity to meet DEED representatives from the Offices of Small Business Assistance, Business Finance, Business Development, Small Business Development Centers, Minnesota Trade Office and Unemployment Insurance and to learn about technical support and financing programs DEED offers that help get startups up and running.
For Mike Elliott, an entrepreneur from Brooklyn Center who is originally from Liberia, the choice to drop in on DEED's Startup open house, struck just the right note. "I decided to attend primarily to see how I could fund my business," he said. "I've gotten information about the Emerging Entrepreneur Loan Program, Minnesota Innovation Loans for Entrepreneurs and the Minnesota Trade Office."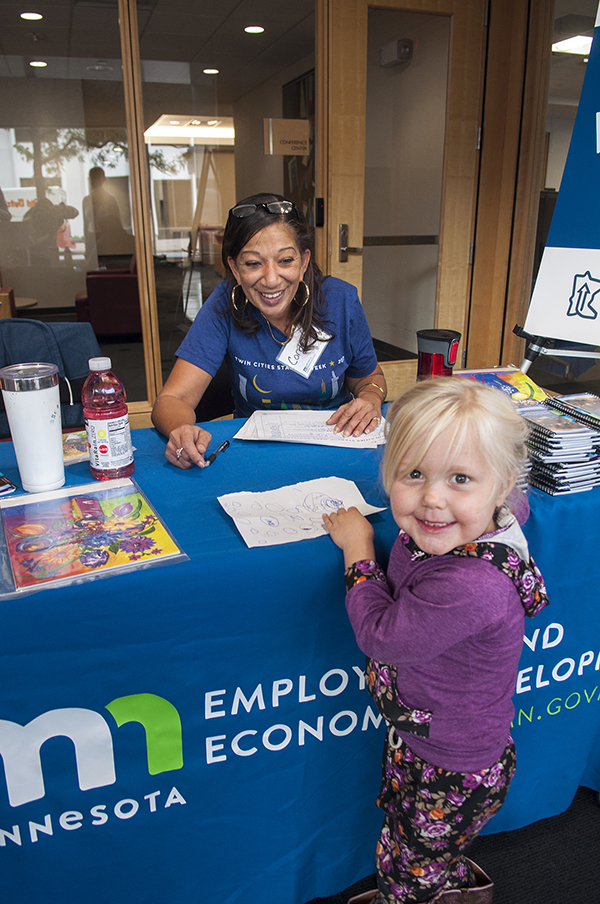 Elliott's business, NowLanguage, makes it easy for organizations and individuals to get spoken language interpreters by phone or in person either by scheduling an appointment or in real time. Using an app, interpreters and users of the service can create an account at no charge.
Workers in Short Supply
Minnesota employers reported more than 122,900 job vacancies in the second quarter of 2017, indicating the state labor market is extremely tight as baby boomers retire from the workforce and moderate job growth continues.
Job vacancies were up 26 percent from the same period one year ago, when there were 97,580 vacancies statewide. Forty-four percent of job vacancies were for part-time employment.
Health care and social assistance accounted for 20 percent of the vacancies, followed by accommodation and food services (17 percent), retail trade (15 percent), manufacturing (9 percent), educational services (5 percent) and construction (5 percent).
Other findings include:
Thirty-two percent of vacancies required some level of post-secondary education or training beyond a high school diploma.
Forty-three percent of job vacancies required one or more years of work experience.
The median (50th percentile) wage offer for all job vacancies was $14.39 per hour.
Fifty-five percent of vacancies offered health insurance. Health care benefits are far less common for part-time job vacancies than for full-time job vacancies.
Go to the DEED website for more details on the second quarter 2017 Job Vacancy Survey. DEED conducts the Job Vacancy Survey in the second and fourth quarters each year.
Photos
Bob Isaacson, director, Business Finance (top left); and Cordella Martin, administrative assistant, signing in one young entrepreneur-in-training.