Building things by hand for the world to enjoy

Minnesota's manufacturing sector is the backbone of the state's economy. Our history of innovation, along with our highly skilled workforce, makes the state a hotbed of manufacturing. Minnesota's diverse, technology-driven advanced manufacturing sector is strong in high-tech manufacturing, including computers and electronics, medical devices, vehicles and more.
Minnesota's advanced manufacturing industry:
Includes 8,300 companies, making a wide range of products.
Contributes over $50.8 billion a year to the state's economy.
Exported $19 billion worth of goods in 2020.
Accounts for 11.4% of statewide employment.
Represents 14% of our state's gross domestic product by industry.
Employs more than 309,000 highly skilled workers.
Industry Leaders
Half of Minnesota's Fortune 500 companies are involved in manufacturing, including 3M, CHS, General Mills, Land O'Lakes, Ecolab, Hormel Foods, Polaris, Fastenal and Patterson.
Cargill, the largest private company in the country, has significant manufacturing operations in the state.
3M is the state's largest manufacturer in Minnesota.
Other manufacturing companies headquartered or with large operations in the state include Medtronic, Andersen Windows, H.B. Fuller, and Toro, just to name a few.
While the Twin Cities is home to a majority of our largest companies, many others are thriving in small cities in every corner of the state.
Here are some of the most successful manufacturing companies headquartered or operating in Greater Minnesota:
IBM, computer manufacturer, Rochester, Minn.
AGCO, tractor manufacturer, Jackson, Minn.
New Flyer, bus manufacturer, St. Cloud, Minn.
Hormel Foods, food manufacturer, Austin, Minn.
Marvin Windows and Doors, Warroad, Minn.
Andersen Windows, Bayport, Minn.
Sage Electrochromics, electrochromic glass manufacturer, Faribault, Minn.
Arctic Cat, snowmobiles/recreational vehicles manufacturer, Thief River Falls, Minn.
Polaris, snowmobiles/recreational vehicles manufacturer, Medina, Minn.
Fastenal, diversified tools and parts manufacturer, Winona, Minn.
Cirrus Aircraft, aerospace product and parts manufacturer, Duluth, Minn.
Our Advanced Manufacturing Ecosystem
Labor Force
Minnesota has one of the most educated workforces in the country, with nearly 94% of the adult population possessing a high school degree and 37% having a bachelor's degree or higher. The labor force participation rate of 69% is the third-highest in the country, reflecting a strong work ethic.
Minnesota's skilled labor force offers a pool for a broad range of manufacturing industries. Our most robust clusters are food production, computer and electronics, fabricated metal, machinery, and medical devices.
Minnesota is one of the top employers in advanced manufacturing, ranking:
2nd in Electromedical and Electrotherapeutic Apparatus Manufacturing (14,745)
4th in Medical Equipment and Supplies Manufacturing (18,529 workers)
6th in computer and peripheral equipment (6,920 workers)
7th in precision turned product manufacturing (2,261 workers)
10th in semiconductor and other electronic component manufacturing (9,522 workers)
R&D
Minnesota is home to some of the largest R&D spenders in the country. Among the top is 3M, a beacon for innovation that spends close to $2 billion annually in R&D. Other manufacturing companies headquartered or operating in Minnesota with significant R&D expenditures include Medtronic, Abbott Laboratories, General Mills, Ecolab and Coloplast, among others.
3M invests about 6% of sales back into R&D annually.
3M produces more than 3,500 patents annually.
Medtronic's $2.3 billion R&D budget last fiscal year constituted 8% of total spending for the company.
Medtronic ranks first for total R&D expenditure among Twin Cities-based med-tech companies.
Massachusetts-based Boston Scientific Corp., which has a significant Twin Cities presence, spent $1.1 billion on R&D last fiscal year, or 20% of its total spending.
Chicago-based Abbott Laboratories, another company with a sizable local presence, spent $2.3 billion on R&D last fiscal year, about 9% of its total spending.
Minnesota-based General Mills' R&D expenditures were $224 million in fiscal 2020.
Another Minnesota-based company, Ecolab, has a significant R&D facility on their 90-acre campus in Eagan, Minn. Ecolab R&D expenditures were $185 million in 2020.
Patents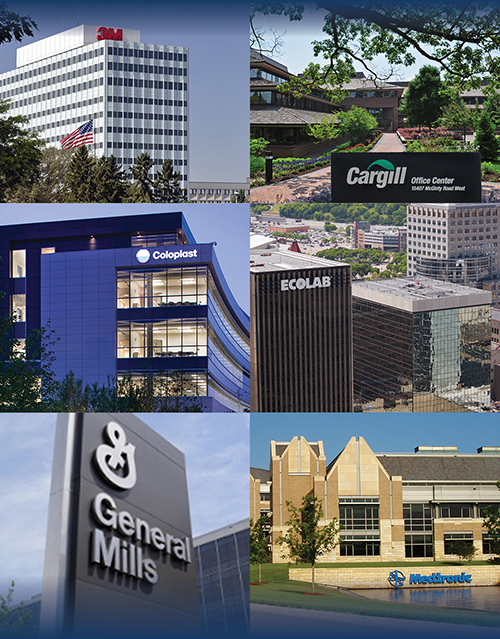 Minnesota companies have been granted thousands of patents in a wide variety of technology fields. The state's companies are giants in innovation of everything from food products, computers, medical devices to avionics. Here is a taste of our creativity:
Patents Granted to Manufacturing Companies Operating or Headquartered in Minnesota 2010-2020:
IBM: 6,471
3M: 4,849
Medtronic: 3,650
Cardiac Pacemakers: 2,234
Honeywell International: 2,148
Seagate Technology: 2,147
Ecolab: 923
General Mills: 287
Coloplast: 223
Cargill: 160
Industry Support
Our industry associations and economic development entities actively support and grow the state's robust manufacturing sector.
The Minnesota Precision Manufacturing Association has been in existence for over 65 years and has over 300 members consisting of precision and advanced manufacturing companies; supply chain companies such as steel, machine tool dealers, heat treaters, platers; service members; and schools, colleges and universities.
Enterprise Minnesota has been supporting Minnesota's manufacturers for over 30 years. They are a consulting organization that helps manufacturing companies become operationally efficient and positioned to grow. The group also serves as the Minnesota connection to the MEP National Network, a public-private partnership that delivers comprehensive, proven solutions to U.S. manufacturers, fueling growth and advancing U.S. manufacturing.
Central Minnesota Manufacturers Association offers assistance in the central part of the state to members, who include manufacturers, distributors/suppliers, professional services, and K-12 education.
Midwest Manufacturers Association is a nonprofit organization that fosters industry associations' creation, growth, and success throughout the Midwest.
Dream It. Do It: A national manufacturing career recruitment strategy. Minnesota is one of the states participating in the Dream It. Do It. effort to attract workers to fill the approximately 600,000 open manufacturing jobs in the U.S.
University of Minnesota
The University of Minnesota (U of M) ranked 9th in R&D expenditures among public universities in the U.S. in FY2019 (most recent available). Total R&D expenditures were $1.013 billion for the Twin Cities campus.
The University has spun out 170 companies since FY2006, and more than 50% of the startups have been in life sciences (Bio/Pharma, Medical Devices, Food/Ag).
U of M Technology Commercialization facilitates the transfer of U of M technologies and research to licensee companies to develop new products and services that benefit the public good, foster economic growth, and generate revenue to support the University's mission.
Incubators and Accelerators
Minnesota is committed to nurturing the next generation of entrepreneurs and technologies through a wide range of programs and services:
Launch Minnesota, an award-winning initiative developed through the Minnesota Department of Employment and Economic Development, serves as an entry point for innovators and startups. It offers innovation grants and helps startups access capital and connect with resources, expertise and training.
Over two dozen accelerators and incubators help startups across the state. One of the first, University Enterprise Laboratories, serves as an incubator for early-stage companies in life sciences, biotech, and other science/technology industries.