Windom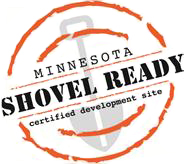 Shovel-Ready Site
Windom is located at the intersection of Minnesota Highway 60 and U.S. Highway 71 in southwest Minnesota. This location offers excellent shipping routes and connectivity to national shipping routes.
Windom is located along the information highway. Numerous fiber networks run through Windom. There are multiple Tier 2 carriers which provide fiber to the home or business. "Windomnet" is the local company which offers high speed fiber-to-the-premise telecommunications (data, voice, video) services.
The city has a diverse economy including manufacturing, agriculture, medical, and adult care facilities. Major employers include: Toro Company, Fast Global Solutions, Big Game Treestands, Fortune Transportation, and Prime Pork.
Windom is located along the scenic Des Moines River and the west side of Cottonwood Lake. The community features a new community center, developed parks system, city swimming pool, and a beautiful downtown square with shopping, greenspace, and dining.
The shovel-ready certified site encompasses land in the North Windom Industrial Park which is zoned as light industrial.