Staples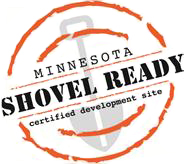 Shovel-Ready Site
Staples started as a settlement around a sawmill and named after businessmen in the lumber industry.
An Amtrak station and municipal airport are located in the city. U.S. Route 10 and Minnesota State Highway 210 are main routes through the city.
Staples is an active, growing community. Our community is home to award-winning healthcare, a strong school district, advanced training opportunities, a skilled workforce and countless recreational and cultural opportunities for all ages.
Over the past 10 years, they have focused on infrastructure improvements to provide a secure foundation for economic growth.