Sherburne County/Elk River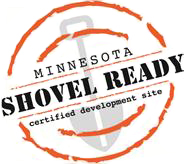 Shovel-Ready Site
Sherburne County is located in the rapidly growing area between St. Cloud and Minneapolis-St. Paul (MSP).
Major industries include utilities, fabricated metal product manufacturing, machinery manufacturing, plastics and rubber manufacturing, furniture and related product manufacturing, manufacturing, health care and retail.
With its good commuter rail and bus service, Sherburne County has experienced rapid residential growth. From 2010 to 2035, it is expected that the county's population will grow by 73%. Its labor force is projected to grow by 63%. Present population is 88,499. It's particularly well-suited to technical and skilled production and back office operations. Wages are typically lower than in the Greater MSP core - a bottom-line advantage for employers.
The certified site consists of 27 developable acres, with two parcels, in Elk River's Elk Path Business Center. Elk River is 32 miles northwest of downtown Minneapolis, at the Highway 169 and 101 interchange.
Directions to the Sherburne County/Elk River Shovel-Ready Site