Rosemount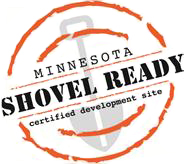 Shovel-Ready Site
Rosemount is located in the Minneapolis-St. Paul metropolitan area and has more than 500 acres of land available for commercial and industrial development.
Its economic development goals include completion of the city-owned business park and the redevelopment of the historic downtown. Several industries are located in the northeast corner of the community, including Flint Hills Refinery.
With easy access to major highways, Minneapolis-St. Paul International Airport, an industrial port on the Mississippi River, and express bus and bus rapid transit, this southeastern suburb is well suited for getting products to market and people to work.
Rosemount, population 22,000, has doubled in size in the past decade and is projected to experience future growth at a consistent rate.