Red Wing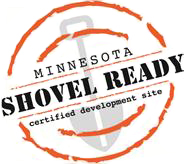 Shovel-Ready Site
Set among the scenic bluffs of the upper Mississippi River, Red Wing is a thriving regional center for tourism, medical care, industry and technology.
Located just 60 miles from Minneapolis-St. Paul and Rochester, it's a progressive community committed to providing a business environment conducive to success in the global marketplace.
Logistically friendly with ready access to highway, air, rail and water, it also has as top-notch telecommunications and other utilities. The city's port authority offers a variety of incentives and loan programs.
The River Bluffs Business Park has 17 acres of prime land are shovel ready and available for light industrial development, making this a community that understands and responds to the needs of business.