North Branch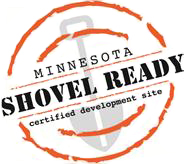 Shovel-Ready Site
North Branch is in Chisago County, located at Interstate 35 and Minnesota State Highway 95. It's named for the north branch of the Sunrise River, which flows through the city.
The city has a total area of 36 square miles. Population is approximately 11,000.
There are four industrial parks, zoned for light manufacturing or industrial use. Fifteen manufacturing and distribution companies make a diverse range of products. Andersen Windows is one of the larger manufacturers. In 2016, the city added 200+ acres to its Interstate Business Park, making it the largest industrial site in Minnesota.