Mora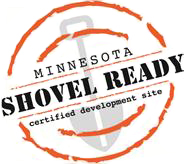 Shovel-Ready Site
Mora is the crossroads of east central Minnesota. Located 72 miles north of Minneapolis and St. Paul at the intersection of Minnesota Highways 65 and 23. Also located 52 miles northeast of St. Cloud and 91 miles southwest of Duluth.
Mora's second phase of the industrial park has 32.8 acres of level terrain.
Mora has a sister city in Mora, Sweden, where Mora's Dala Horse originated.