Little Falls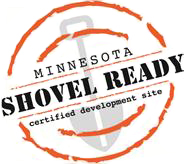 Shovel-Ready Sites
Little Falls, a community of 8,500 residents, is located in Morrison County in Central Minnesota and on the banks of the Mississippi River.
Three of the main routes in the city are U.S. Highway 10 and state highways 27 and 371. Camp Ripley is nearby, and the Little Falls Dam serves as a station that generates power for the surrounding area.
Chief Hole-in-the-Day Industrial Park consists of 59.1 acres of developable land; it was previously farm land and vacant property. Current and planned zoning designation is Heavy Industrial 1-2.
Directions to the Little Falls Shovel-Ready Site 1