Isanti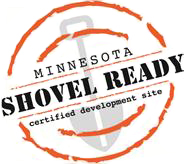 Shovel-Ready Site
Isanti, just north of Minneapolis-St. Paul along Highway 65, is a major north-south corridor and a few minutes from Interstate 35.
Its close proximity to the Twin Cities, St. Cloud and Duluth has helped fuel steady growth. Isanti has more than 5,000 residents, more than double the city's population just a decade ago.
The city's diverse economy is anchored by significant employment in trade transportation and utilities; education and health services; and manufacturing. The pro-business climate affords lower taxes, less government regulation, and expedited permitting processes tailored to meet business timelines.
The 24-acre Isanti Centennial Complex offers four prime industrial lots priced at $1 each and includes aggressive financial incentives, including tax-increment financing, tax abatement, and financing below market rates.