International Falls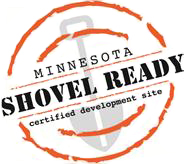 Shovel-Ready Site
International Falls is on the Rainy River, between the U.S. and Canada. The area is North America's busiest rail port of entry. The international airport, serviced by Delta Airlines (Sky West), offers daily flights and is a U.S. Customs/Immigration inspection checkpoint for aircraft of all sizes traveling into the country.
The city, nicknamed "Icebox of the Nation," has a total area of 6.53 square miles, with a population of approximately 6500.
The EDA owns the Multi Modal District - an industrial site ideal for warehousing, distribution, assembly and manufacturing. It has 43.6 developable acres and is adjacent to CN and MD&W railroads and to the industrial truck route connecting to U.S. Highway 53 and MN 11/71. Gas, electricity, sewer, water and a rail spur have been implemented. Foreign Trade Zone status is available as are economic development financial incentives.