Hutchinson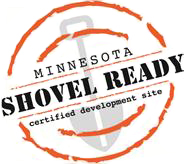 Shovel-Ready Site
Home to a stable of world-class companies, Hutchinson has the enviable distinction of being a center for high-technology precision manufacturing in Minnesota.
Hutchinson Technology Inc., 3M, NuCrane Mfg., Ohly, Hutchinson Manufacturing, Goebel Fixture Company, Warrior Mfg. and Nordic Components are among those notable companies
An hour west of the Twin Cites metro area, Hutchinson is also a regional hub for work, education, shopping and entertainment in south-central Minnesota. Over the past two decades, the city of 14,100 residents has grown twice as fast as the state as a whole.
Hutchinson's Energy Park is located just moments from State Highways 7, 15 and 22 with easy access to the Twin Cities, St. Cloud, New Ulm, Mankato and Willmar. Access to Interstate 94 is 50 miles north and Interstates 494 and 694 are 50 miles east of the industrial park. The 47-acre industrial park has seven shovel-ready sites available for light industrial development.