Gaylord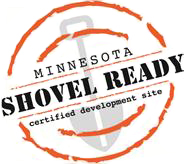 Shovel-Ready Site
Gaylord is the county seat of Sibley County, Minnesota. It's located on the shore of Titloe Lake and has a population of 2,400.
The community is approximately 50 miles south of Minneapolis-St Paul. Minnesota State Highways 5, 1, and 22 are three of the main routes through the community.
Gaylord's shovel-ready certified site, located on Railroad Avenue, has 9.77 acres of total developable land, in one parcel. It's zoned for light industrial use. The Chicago Northwestern Railroad is on the north side of the site.