Plastic and Rubber Manufacturing Bounces Back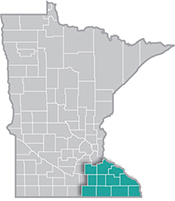 October 20, 2015 - When people think of jobs in the manufacturing industry, they typically focus on a short list of production occupations that center on metal, assembly or welding, for instance.

But with nearly 16 percent of jobs in southeast Minnesota being in manufacturing, there's a much wider variety of promising manufacturing careers in this extraordinarily diversified region.

Plastics and rubber product manufacturing is just one example of a specialty that's bouncing to new heights over the past few years with substantial growth in employment and wages.

The sector had 1,169 jobs in 2014, which accounts for about 3.1 percent of all manufacturing jobs in the southeast region. While small in size, this manufacturing niche has raised employment by 34.7 percent – or 301 jobs – since 2010, when southeast Minnesota began its recovery from the recession. That's a pretty hefty gain considering that a number of manufacturing sectors (notably, paper and printing, and computer and electronic products) lost jobs during the same period.

There are 28 plastics and rubber product manufacturing firms in southeast Minnesota, making up 4.2 percent of the total manufacturing firms in the region. While the number of companies is down from 32 in 2010, the ones that remain are adding far more jobs than four years ago.

Average annual wages in plastics and rubber product manufacturing in the region were $46,644 in 2014, which was about $1,700 higher than the total of all industries. What's more, wages in the sector have increased 14.9 percent since 2010, which is nearly three times as fast as the total of all industries, which rose 5.5 percent.
For More Information
Contact Mark Schultz at 507-205-6068.