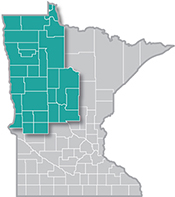 January 13, 2016 - Two years ago, I couldn't tell you much about northwestern Minnesota. The Brainerd Lakes area was the farthest I'd traveled, and people are quick to remind you it's only halfway up the state. I'd heard mention of the Red River Valley, the Red Lake Nation and We Fest in Detroit Lakes, but not much else. My imagination filled the gaps with flyover shots of endless pines and firs, lakes and villages. The last thing I expected was a bustling, diverse economic landscape driven by robust industry and numerous colleges.
What I did know was my friend and colleague Kelly Asche had been working at the Center for Small Towns in Morris for a couple years, and I was intrigued by the draw to rural communities. Raised in Red Wing, I left my hometown for a post-secondary education and new experiences. After 15 years of life in the metro and two post-secondary degrees, how would rural Minnesota appear to me? The gravel roads and open fields carry lots of sentimental value, but would I recognize a socioeconomic value that wasn't as apparent growing up?
After a year living in Nisswa and traveling throughout northwestern Minnesota as a representative of the Minnesota Department of Employment and Economic Development, the answer is an overwhelming yes. Having bought into the myth that there's only one side of the urban-rural divide for young, educated persons to be on, a part of me feels robbed that I didn't get here sooner. The summers are spectacular, the music is abundant and the people are passionate yet relatively carefree - and after living through the polar vortex of 2014, no amount of winter terror worries me anymore. So why don't more people choose to live here?
That's one of the questions being asked by Greater Minnesota Rising (GMR), a research project funded by The Initiative Foundation in Little Falls and West Central Initiative in Fergus Falls: to seek out why people move here, why they don't, and what strategies might facilitate migration as the state and nation faces its most challenging labor shortage since World War II. An initiative of Minnesota Rising, a network of emerging leaders across the state focused on the future of Minnesota, the Greater Minnesota Rising project was developed on the heels of Ben Winchester's landmark "Brain Gain" migration research. His findings showed most of rural Minnesota actually experienced an influx of people and talent ages 30-49 from 1990-2000 and 2000-2010. Winchester goes on to exclaim "Imagine if we actually helped people move here!"
Northwest Minnesota may be the state's best kept secret, but the times they are a changin'. The 26-county region will need to fill almost 60,000 replacement openings by 2022 to maintain current employment levels, without which local industry will struggle to produce as much and compete on the world stage (Figure 1).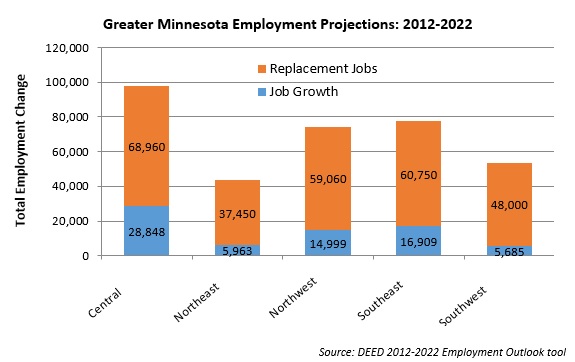 Greater Minnesota Rising is on a mission to figure out how professional networks and emerging leaders in the northwest can be activated in response to the challenge. In April, GMR's research capacity was increased significantly with the support of the Mary Page Community-University Partnership Fund, a fundraising effort to memorialize Mary Page, a trailblazing leader for RSDP and Greater Minnesota. With their support, GMR hired Brooke McManigal, a CURA student researcher, via the Community Assistantship Program. Brooke joined Minnesota Rising volunteers and GMR Research Lead David Milavetz from Raising The Bar LLC on the project.
In three phases over the summer, Greater Minnesota Rising talked with emerging leader groups, junior chambers, and other community organizations to explore three basic questions:
What is working to attract and retain young professionals and what can be improved?
How might we connect other young professionals to Northwestern Minnesota? To existing groups? To the regional workforce?
How do young professionals envision their lives in 30 years? How do young professionals picture the region in 30 years? What next steps can help bring the best of what they imagine to life in Northwestern Minnesota?
The aim was to develop recommendations for ways individuals, organizations, and regional groups can be intentional resources in this critical workforce development issue. Unlike corporate recruitment or other strategies based solely on work opportunities, GMR engages rural emerging leaders in an effort to reach their counterparts elsewhere, millennial to millennial. The passion and energy of these networks is so attractive and contagious it needs to be shared. With their extensive regional knowledge and experience, GMR hopes that passion can be channeled to illuminate those imaginative black holes that city folk conjure up when thinking about northwestern Minnesota.
What's it like to work in health care in northwest Minnesota? I don't know, but there are a lot of people that do - with more than 36,000 jobs, it's the largest employing industry here with wages that often exceed the state average. GMR aims to find ways to share knowledge like this with those who have even a slight inclination (a dream, if you will) of living in vacation-land year-round. The future of the state's economy will be driven by the job seeker - here's to empowering each and every one to finding a sustainable place to work and live. Don't be fooled - there's far more than one - or twin - option(s).
For More Information
Contact Chet Bodin at 218-825-2183.