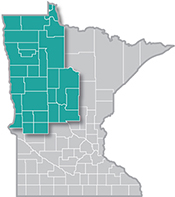 October 20, 2015 - After suffering major setbacks during the recession, manufacturing of transportation equipment is regaining momentum in northwest Minnesota, a region well known for deep expertise in the production of snowmobiles, all-terrain vehicles, boats and other vehicles.
Home to some of the industry's most recognized brands (Arctic Cat, Polaris, Lund), the region has recaptured a significant portion of statewide employment in the transportation equipment sector.
In fact, northwest Minnesota is home to more than 42 percent of the state's transportation equipment manufacturing jobs. The region's 37 transportation equipment manufacturing firms provide 4,853 jobs, an average of 131 jobs per employer. That's easily the largest average number of employees of any manufacturing sector in the region.
The turnaround is good news for an industry that suffered major employment losses during the recession, outpacing losses across all manufacturing industries.
From 2008 to 2010, the entire manufacturing sector had employment losses of about 3 percent. Transportation equipment manufacturing experienced much deeper job cuts - 27 percent - during those years.
By 2014, transportation equipment recovered most of those jobs, and the sector has raised annual wages by nearly $50 million since 2011, an increase of 22 percent.
At more than $270 million, transportation equipment manufacturing paid the most wages annually of any manufacturing sector in northwest Minnesota in 2014.
Expect the transportation equipment manufacturing industry to keep moving forward. Our Employment Outlook tool shows that transportation equipment manufacturers are projected to add jobs twice as fast as the manufacturing industry overall, and about 2 percent faster than the total of all industries in northwest Minnesota.
If the region gains jobs at the projected rate, transportation equipment manufacturing will account for more than one-third of the region's net new manufacturing jobs in the next decade.
For More Information
Contact Chet Bodin at 218-825-2183.