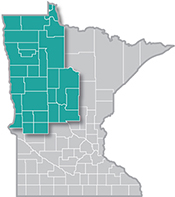 July 15, 2015 - As Northwest Minnesota's economy has regained strength and added jobs in the past five years, Administrative Support and Waste Management Services has been one of the fastest growing industries. Much of this growth, however, was happening behind the scenes in the Employment Services sector, which is best known for providing temporary staffing solutions for other employers.
When businesses see increased demand for their products and services, many initially ramp up with temporary workers because they are easier and less expensive to both hire and lay off, depending on conditions. That makes the employment services sector an excellent economic indicator - reflecting employment gains or losses across all industries.
In Northwest Minnesota, the administrative support services sector added 1,838 net new jobs from 2010 to 2014, accounting for more than one-fifth of the region's total job growth during that timeframe. The employment services sub-sector, which had about 2,250 jobs at 51 firms in 2014, essentially doubled in size over the past five years. Even more impressive, the Office Administrative Services sub-sector enjoyed a 350 percent increase - jumping from just over 200 jobs in 2010 to 940 jobs in 2014 (see Table 1). 
While temp workers help employers react quickly to changing economic conditions, they were exposed to uncertainty. Temporary jobs can last anywhere from a couple of hours to a couple of years, with no guarantee of permanent employment. Growth in the industry is not always steady either, ebbing and flowing with the overall economy. While they are among the first to be hired, temporary workers are also often the first to be laid off when businesses need to cut back.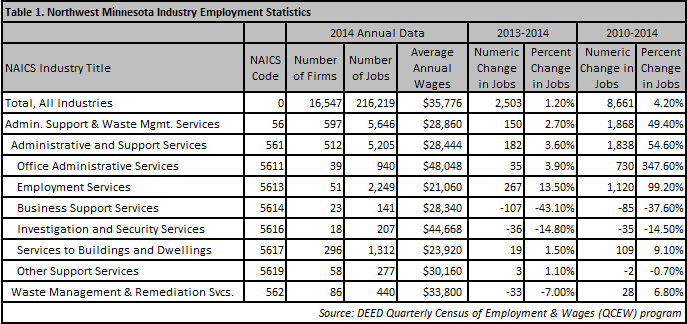 Still, for people who need jobs, these temporary positions can be a good opportunity to earn money, update skills, gain experience, and take a first step toward permanent employment. The temporary setting also gives employers a chance to test workers before perhaps hiring them as regular employees as business becomes more stable.
Many staffing agencies in the region work with our Minnesota WorkForce Centers and the MinnesotaWorks.net online job bank; consistently listing their employment vacancies and receiving assistance in referring or placing applicants for temporary employment.
For More Information
Contact Chet Bodin at 218-825-2183.