Serving Up Jobs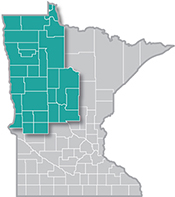 April 2016 - In 2014, Minnesota began increasing the state minimum wage from $6.15 per hour, where it stood since 2005. In August of this year the increase will reach $9.50 an hour, a 55 percent rise from just two years ago. Minnesota's full minimum wage will be adjusted annually for inflation starting in 2018.
Some restaurant and bar owners have bemoaned the increase largely because a number of their employees make tips in addition to their base wages, which has allowed these employers to keep their labor costs down in the past. For some, fears swelled about the industry's future viability and the fate of serving jobs.
So far, food services employers in Northwest Minnesota do not appear to have cut their workforce since the minimum wage increases took effect. Overall, there were 15,932 jobs in the Food Services and Drinking Places industry in the region through the third quarter of 2015, up slightly from the third quarter of 2013, prior to the minimum wage increases.
Of the top three subsectors in the Food Services and Drinking Places industry, only Restaurants added jobs, but it was enough that the industry maintained positive job growth overall. Comparing third quarter employment from 2013 and 2015, Special Food Services (such as caterers and food trucks) and Drinking Places shed a combined 144 jobs, while Restaurants added 160 (Chart 1).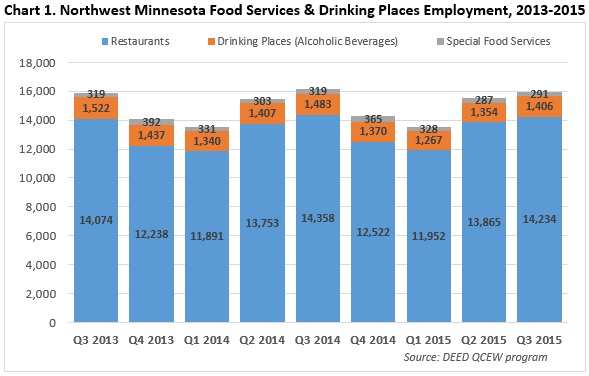 Although net job changes were minor, job vacancy trends indicate employment in food services continue to be in demand and job seekers need not shy away. Not only have wage offers increased since the fourth quarter of 2013, but the number of job vacancies in Food Preparation and Serving Related Occupations has also soared.
Thanks in part to its large tourism-related industry, Northwest Minnesota experienced a 169 percent increase in the number of food prep and serving job vacancies from 2013 to 2015. In the latter half of 2015, there were 439 vacancies for cook and food prep workers, a whopping 429 percent increase compared to the same period in 2013 (Table 1). The number of job vacancies for Food and Beverage Servers, whose base wage rates are typically minimum wage and therefore directly affected by the changes, more than doubled.
Interestingly, wage offers for food preparation employees like cooks and food prep workers – which were already near $9.00 an hour before the new minimum wage hike – have also increased. Wage offers for supervisors are up by 38 percent, with a median rate of $12.33 an hour. The increase for supervisors pushed their wage offers above the median wage offer for all job vacancies in Northwest Minnesota. In 2013, they were more than $2.00 per hour below that threshold (Table 1).

Combined, these data indicate that neither employment nor opportunity has fallen off in the food services sector, despite new minimum wage requirements. Whether employers can fill their employment needs is another question, but the food service industry is certainly looking like a good option for workers looking to find and keep a job.
For More Information
Contact Chet Bodin at 218-825-2183.