Rising Costs of College
May 2016 -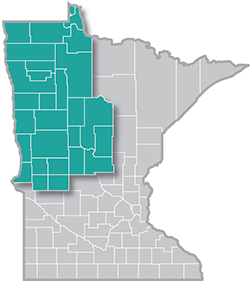 Post-secondary education has always been an important factor in economic success, but the rising costs of college can be very worrisome for job seekers who want to get the most out of their investment. Since 1985, the costs of higher education have surged more than 538 percent, according to Bloomberg News. In Minnesota, the costs of education have increased at a slower, but still very high rate. The Office of Higher Education provides a historical look at the cost of tuition and fees at various types of post-secondary institutions over time. Weighted for inflation, post-secondary tuition and fees in the state have increased anywhere from 94 percent at private four-year colleges to 175 percent at the University of Minnesota since 1991 (Chart 1).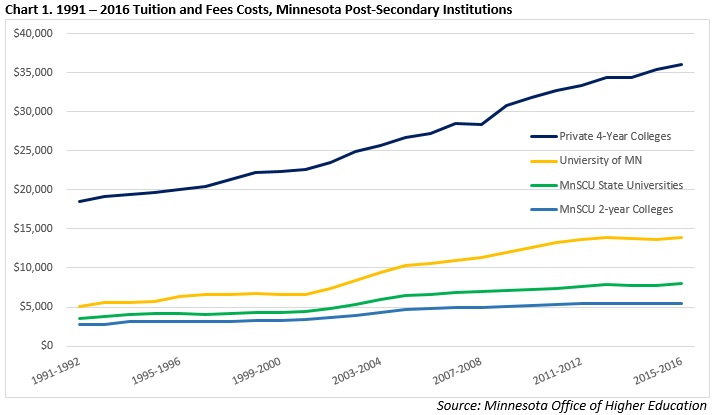 This has many people asking what type of post-secondary education is right for them and their financial future. In 2015, over two-thirds of job vacancies in Northwest Minnesota required no more than a high school diploma so the decision of whether or not to invest in post-secondary education is a critical one. The investment decision is even bigger when one considers the full cost of education, which can extend well beyond tuition. Annual expenses may also include room, board, transportation and personal expenses – to name a few. And while working while in school is becoming a more popular option, and working students tend to borrow less than those who do not work, that may not be a realistic option for everyone.
Table 1 itemizes typical education costs by looking at the amount of federally-subsidized loans needed to pay annual expenses, minus the average amount of combined state and local grants awarded by institution type. In reality, total education costs will vary by school location, cost of living before and after graduating, personal savings, and household income. For the sake of discussion, however, Table 1 looks at average total costs of attending a Minnesota State Colleges & Universities institution in Northwest Minnesota if annual expenses (minus grants) are borrowed up front.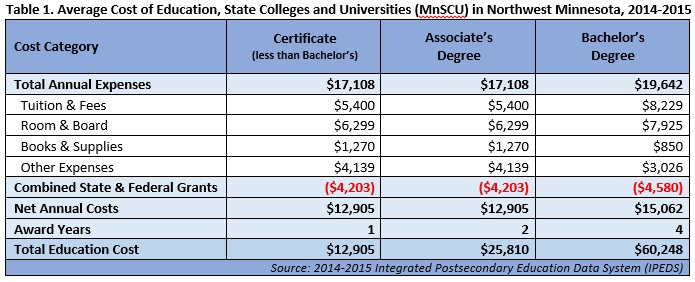 Annual costs of education at four-year universities exceed those at two-year colleges, but not by as much as one might think. According to the National Center for Education Statistics, Tuition & Fees and Room & Board cost more at regional state universities (such as Bemidji State and Minnesota State University-Moorhead), but Other Expenses such as transportation and personal expenses are less. Universities are more likely to offer on-campus room and board options like dorms and apartments, compared to the regional state colleges (including Alexandria, Bemidji, Brainerd, Detroit Lakes, Fergus Falls, Moorhead, Thief River Falls and Wadena), which rarely do. Therefore, students at two-year colleges tend to live off-campus and drive to school, which may help explain these differences; though the total cost of room and board and other expenses varied by only about $500 between colleges and universities.
The greater difference comes from the accumulated costs of multi-year programs, and the additional interest on what is borrowed to complete a degree. Borrowers have several options to cover these costs, including private loans from banks and credit unions. However, most first-year, full-time students are eligible for federally-subsidized loans at 4.66 percent interest. Based on that, certificate completers paying off an average of $12,905 in student loans over a 10-year period would need to pay $1,608 per year. Associate degree holders who compiled $25,810 in loans would need to pay $3,228 per year for 10 years; and students who borrowed $60,248 to earn a bachelor's degree would have annual payments of $7,548 over 10 years.
To navigate this decision, DEED has several tools that can help a prospective student, worker, or casual observer. The Graduate Employment Outcomes tool shows how well graduates fare after they're done with school and join the workforce. Both statewide and regional data show that graduates from state colleges and universities with bachelor's degrees are earning more than those with associate degrees after two years in the workforce.
Next month we'll explore employment outcomes for regional Minnesota State Colleges & Universities schools in more detail, and get an idea of how different award programs in Northwest Minnesota are paying off.
For More Information
Contact Chet Bodin at 218-825-2183.