Median Debt and Median Wages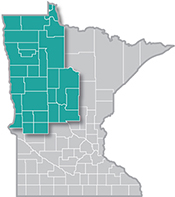 July 2016 - Our past two blog posts have looked at the costs and employment outcomes for graduates of two-year and four-year colleges and universities in Northwest Minnesota. Rising Costs of College looked at total costs if students took out loans to cover all annual expenses including tuition and fees, room and board, books and supplies, and other expenses. Understanding Costs and Benefits compared median wages for graduates who found full-time, year-round employment against their student loan repayment obligations and the regional cost of living.
These data provided a framework for discussion, but total education costs vary by personal savings, school location, household income, hours worked while in school, scholarships awarded and pre-college credits attained. Clearly, not every student borrows the full amount to attend college. Instead, the U.S. Department of Education compiles data on average student debt on their College Scorecard. These data look at the performance of schools eligible to receive federal financial aid and the outcomes of their students.
According to College Scorecard data, students who graduate from the Minnesota State Colleges and Universities (MnSCU) in Northwest Minnesota borrow much less than the full amount needed for college, which also makes annual student loan repayments much less. The median debt for the five community and technical colleges in Northwest Minnesota ranged from $11,000 at Northwest Technical College in Bemidji to $15,750 at Northland Community and Technical College in Thief River Falls (Table 1).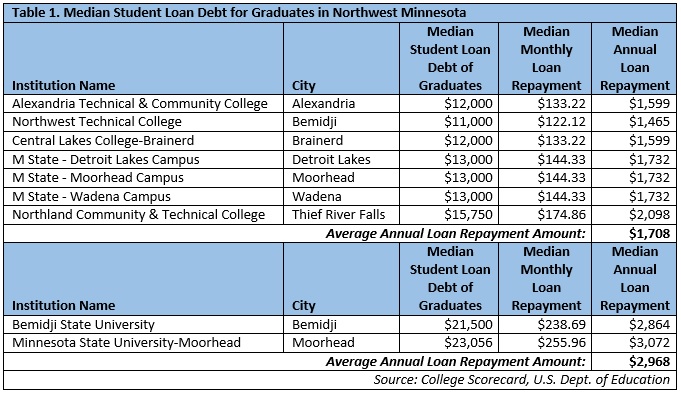 However, while median student debt is less than the full amount, graduates are also likely to earn less than full-time, year-round wages after graduating. According to data from DEED's Graduate Employment Outcomes tool, after two years in the workforce, 2013 graduates from the two-year and four-year colleges and universities in Northwest Minnesota found full-time, year-round employment only 38 percent and 39 percent of the time, respectively.
The full-time, year-round median wage for graduates of the two-year colleges in Northwest Minnesota was $37,537; compared to $24,130 for all graduates, more than a $13,000 difference. Likewise, graduates from the four-year universities in the region who found full-time, year-round work were earning $41,158 two years after graduation, which was just over $11,000 higher than the median wage for all graduates, at $29,943.
Given these realities, Chart 1 lowers the annual costs of repaying student loans to match the median debt of all graduates from MnSCU schools in Northwest Minnesota, but also substitutes the median wage for all graduates working in Minnesota rather than using the full-time, year-round wages. These adjustments produce much different results than the last blog post. Graduates from four-year state universities would be able to meet their loan repayment and cost of living needs, but not by much. On the other hand, median wages for certificate and associate degree holders from the region's community and technical colleges were about $2,000 short of what's needed to afford cost of living and education loans combined.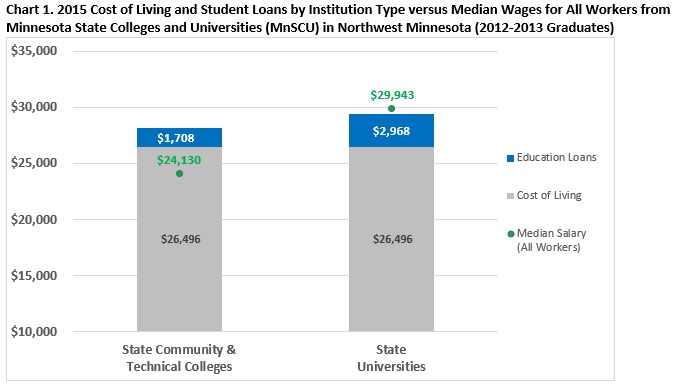 The living standard of college graduates is highly variable by the type of institution attended, the length of the program, how much is borrowed to complete a degree, and whether a college graduate finds full-time work. Graduates are able to repay education loans more easily if they find full-time, year-round employment, but that assumption is a bigger risk than some might realize. GEO data show that many graduates have lower median wages until they land that full-time, year-round gig.
Next month, we'll look at how different outcomes could affect families with additional cost of living expenses – another factor that will hopefully help individuals plan for the future.
For More Information
Contact Chet Bodin at 218-825-2183.