Diversity and Unemployment in NW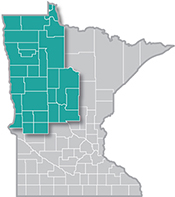 November 30, 2015 - Minnesota has been a popular state lately in the national news. In addition to being ranked the top state for business in 2015 by CNBC, several other reports tout our way of life, economy and recreational amenities. Patch of Earth, a website that creates and curates smart news, ideas and articles, recently compiled a variety of lists and found Minneapolis - St. Paul is the best place to live in the nation.
An article by The Atlantic also praised Minnesota's economic achievements, calling it "The Miracle of Minneapolis." The positive press is great, but like true Minnesotans, leaders here also know there are several areas that still need improvement. High on that list is the state's socioeconomic disparity based on race and ethnicity. In response to The Atlantic article, Sean Kershaw and Juventino Meza of the Citizens League provided one explanation for how the issue persists: "A majority population of highly educated white people who do not leave + newcomers and growing communities that seek the same things as the majority population + American Indian and African-American communities that have been historically marginalized = a deep racial disparities gap."
When it comes to unemployment, this disparity has been clearly evident. DEED estimated the unemployment rate of black workers was over 10 percent higher than white workers in September 2015, according to monthly data from the Current Population Survey (Figure 1).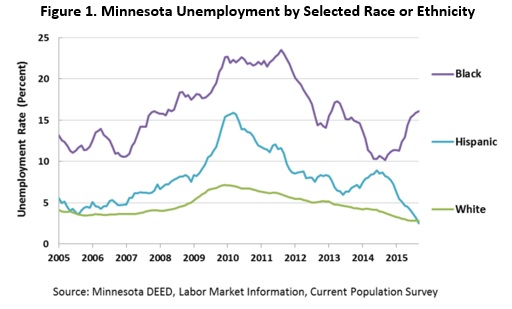 Though Northwest Minnesota has far fewer Black or African American workers in the labor force, unemployment rates were over a percent lower in Northwest Minnesota than in the Twin Cities metro or the state as a whole, according to data from the 2009-2013 American Community Survey 5-Year estimates.

However, unemployment rates among American Indians and Alaska Natives and Hispanic or Latino were three to five percent higher in Northwest Minnesota. Other Races, Asians, and those of Two or More Races showed similar unemployment rates in Northwest as in the Twin Cities and the state (Table 1).

Interestingly, American Indians and Alaskan Natives in Northwest Minnesota participated in the labor force more so than in the other regions, yet face higher unemployment rates. Unlike the Twin Cities or the rest of Minnesota, American Indians are the second largest ethnic group in Northwest Minnesota, and the unemployment disparity in their communities likely reflects the 'historical marginalization' the Citizens League spoke of.
Ongoing efforts within American Indian communities are fighting to end this disparity. Tribal colleges and adult learning programs on the White Earth, Red Lake and Leech Lake reservations train job seekers across the Ojibwe nation. The tribes also work together to create employment opportunities through the Northern Minnesota Tribal Economic Development Commission.
DEED aims to help break down employment barriers and create business opportunities for communities of color in Minnesota through the newly established Office of Career and Business Opportunity. The resources and practices the office provides will supplement ongoing tribal efforts in Northwest Minnesota, and help minimize the unemployment disparity in American Indian communities here and elsewhere.
For More Information
Contact Chet Bodin at 218-825-2183.