Cultural Education and Health Care Training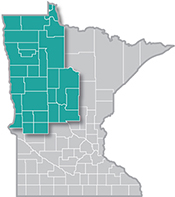 December 28, 2015 - It's hard to find a health care facility that doesn't need entry-level staff in northwest Minnesota, said Tim Qualley, DEED business services representative in Bemidji.
Data from DEED's Occupations in Demand tool backs up his assessment. Both certified nursing assistants (CNAs) and home health aides are among the top 10 occupations in demand in the Headwaters economic development region, which includes Beltrami, Hubbard, Clearwater, Mahnomen and Lake of the Woods counties. In addition, it's estimated that over 2,300 CNA and home health aide positions will open up in the larger Northwest Minnesota planning region by 2022.
To help fill the need, a new project from the Northwest Indian OIC (NWIOIC) will recruit and train 48 low-income residents in the most racially diverse region in the state outside of the Twin Cities for highly targeted health care occupations. As shown in last month's blog, programs like this are being funded to address the employment disparities between American Indians and other ethnic populations in Northwest Minnesota.
DEED awarded the NWIOIC a $164,302 grant under the Minnesota Job Skills Partnership (MJSP) to help fund the training under MJSP's Low Income Worker Training Program. The grant funds training for individuals with incomes at or below 200 percent of the federal poverty line.
In this project, the NWIOIC, Tribal Spiritual Educators, and Optivation - a joint venture of Bemidji State University and Northwest Technical College - will deliver a comprehensive set of skills for the workplace as well as traditional worldview and methodology.
"This program is the result of many people and organizations coming together in a true partnership," said Kerry Ross, associate director, Optivation. "Everyone is working hard to give students every opportunity to complete the program, such as flexible delivery locations, styles and unique support structures, and challenging the status quo. NWIOIC asks questions and presents ideas beyond anything I have done in my career."
Employment Outlook 
Classes will be held on site in Bemidji, Leech Lake and Oshkiimaajitahdah (New Beginnings) in Red Lake. Trainees will learn First Aid and CPR, Customer Service, Intermediate Computer Skills, and Effective Communication in the Workplace and become certified as home health aides, community health workers, medical coding specialists, and/or CNAs. The tribal health care worker training approach will give students greater in-depth, more focused training than what's available through standard CNA and Community Health Care Worker programs - and enhance their employability.
DEED's Job Vacancy Survey data for Northwest Minnesota shows the current median wage offer for nursing assistant openings is $11.54 per hour - slightly below the statewide median wage offer for nursing assistants, $11.99. However, some employers in the region are beginning to raise starting wages to $14.00 per hour or more. As the labor market tightens, other employer are likely to follow suit.
Community health workers - a position that many graduates of the program might consider given its holistic training approach - have a median hourly wage of $15.95 in Northwest Minnesota. According to employment projections, DEED estimates there are 270 projected openings for that job across the state from 2012-2022, including 10 in Northwest Minnesota (Table 1).

According to the grant proposal, area health care employers that may be expected to hire the trainees once they're certified include:

Jourdain/Perpich Extended Care Facility - Red Lake
Indian Health Service - Bemidji and Cass Lake
Lutheran Social Services - Bemidji and throughout the region
Good Samaritan Society - Bemidji, Blackduck and Clearbrook
Sanford Bemidji Medical Center - Bemidji and clinics throughout the region
Golden LivingCenter - Walker
Cornerstone Nursing and Rehabilitation Centers - Bagley, Fosston and Kelliher
Essentia Health - Park Rapids and clinics throughout the region
DEED's business service representatives add that most of these employers have career ladders and tuition grants to help their employees continue their education and move on to CNA, licensed practical nurse, and registered nurse positions, helping to fill more employment needs at the region's health care facilities.
For More Information
Contact Chet Bodin at 218-825-2183.