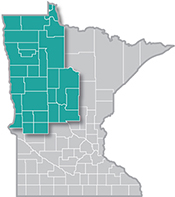 August 17, 2015 - Just over a decade ago, Richard Florida coined the term "Creative Class" to help explain the economic and demographic shifts in major U.S. cities. His new social and economic theories focused on the movement of creative class workers, which included "people in design, education, arts, music and entertainment; whose economic function is to create new ideas, new technology and/or creative content." This includes people in management, business, engineering, computer and mathematics, science, and other related occupations (see below).

Much has been written about Florida's theories, from how it is socially-dividing cities to being a key to rural growth - especially those areas with large production industries. Most, however, agree it is a powerful metric and it goes beyond educational attainment unlike traditional measurements of human capital. By examining what type of work people do, Florida's distinctions provide insight to the diversity of occupations and industries in a region.
More recently, in astudy of the density of artistic and cultural creatives, Florida placed Minneapolis fifth in the nation, a hair behind San Francisco; and in another graphic anticipating national growth in creative jobs, Minneapolis-St. Paul lands in Florida's top 10. In an unrelated study by CNBC this year, Minnesota was also ranked as the BEST state in the nation for business in 2015, led by the diverse workforce and industrial makeup of the Twin Cities.
Due to a very different industry mix, Northwest Minnesota has a smaller concentration of jobs in the creative class than the Twin Cities. Working class and service class occupations still dominate the northwest region, but employers seem to recognize some value in bringing on more creative class workers. According to analysis of recent data, 28 percent of all jobs and 23 percent of current vacancies in Northwest Minnesota come out of the creative class (see Table 1).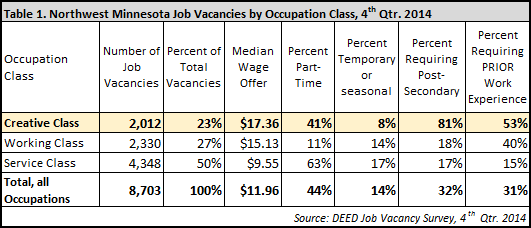 As rural employers have rebounded from the Great Recession and as the labor market tightens further, industries will be competing for workers in ways they haven't had to before. Some of Northwest Minnesota's larger employers such as DigiKey and Essentia Health (among many others) are already dealing with workforce challenges.
But employers don't simply need more workers, they need those who can help them adjust to the looming labor shortage. "This shift has much to do with fundamental changes in our economy that favor websites over smokestacks," says Aaron Klemz in a past MinnPost blog. If the creative class in a region is a good indicator of how adaptable an area is, Northwest Minnesota is reacting differently to the changes.
The Northwest region may not need as many creative workers, but there are some interesting differences between the hiring strategies of Twin Cities and Northwest employers when it comes to filling creative class occupations. Employers in the Twin Cities appear to value work experience more than education in creative class occupations, while Northwest employers are more focused on education. Over 81 percent of creative class vacancies in the region required post-secondary training, compared to 76 percent in the Twin Cities (see Chart 1).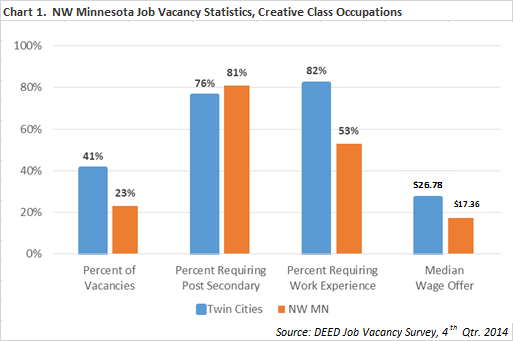 What may represent an even greater challenge for Northwest Minnesota employers is that the median wage offer for creative class jobs were $9 per hour more in the Twin Cities - a gap that outweighs even the cost of living differences between the regions. Essentially, employers in Northwest Minnesota are asking for creative class job seekers with higher educational attainment (and therefore might have higher student loan debt) to move to their region for lower pay. That obviously makes it more difficult for employers in Northwest Minnesota to compete for talent.
For More Information
Contact Chet Bodin at 218-825-2183.