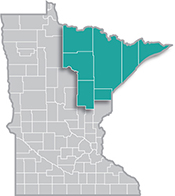 March 10, 2015 - Even as unemployment rates continue to drop and the number of jobs has rebounded to pre-recession levels in many industry sectors, a conspicuous element of the recovery is the absence of wage growth.
Since 2009, inflation-adjusted average pay in the United States has risen only slightly. Here in Minnesota, we're at 3.6 percent unemployment and we're still not seeing wage growth.
Data from DEED's Current Employment Statistics (CES) program, however, indicates that earnings have increased in Northeast Minnesota. The Duluth-Superior Metropolitan Statistical Area (MSA), which includes St. Louis and Carlton Counties in Minnesota and Douglas County in Wisconsin, has seen an increase of $4.54 to its average earnings per hour for all private employees since 2008. This increase is substantial in that average earnings in Duluth are now closer to the state average, which was $25.77 in 2014; and the amount of growth was only exceeded by the Rochester MSA, which grew $9.08 from 2008 to 2014 (see Table 1).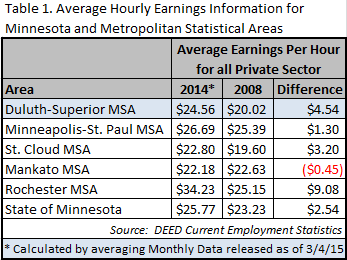 Because the estimates presented in Table 1 are not adjusted for inflation, the difference is a reflection of net earnings growth and not real wage growth. Table 2 takes into account the effect inflation has on wage growth over time, and can better illustrate the growth of purchasing power that may result because of increased earnings in Northeast Minnesota.


If earnings in the Duluth-Superior MSA grew at the same rate as inflation since 2008, they would be an estimated $22.01 per hour in 2014, based on the Bureau of Labor Statistics Inflation Calculator. The actual average earning per hour for all private-sector employees was $24.56 in 2014, an hourly difference of $2.55 from the inflation-adjusted estimate.

Data shows the Duluth-Superior MSA has seen considerable real wage growth since the recession, a trend that counters the prevailing state and national narrative of wage stagnation. What is the cause of this growth in wages? One hint is the area's industry mix and noticeable amount of jobs gained in high-paying industries. Check back to our region's next blog for the investigation and explanation of the wage growth in Northeast Minnesota.
For More Information
Contact Erik White at 218-302-8413.