Preparing for the Silver Tsunami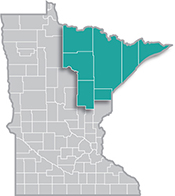 January 29, 2016 - Previous editions of Local Look have explored the tightening labor market in Northeast Minnesota and the older population in the region. This month we highlight examples of workforce development strategies occurring in the region to retain and help transition workers and their knowledge base to the needed jobs in the area.
The Senior Community Service Employment Program is a statewide program with local agencies providing the services that help people age 55 and older who meet eligibility guidelines get on-the job- training and current work experience through paid community service assignments. With Northeast Minnesota's older population, this program is ideal for retirees who wish to return to work part time, or older adults who are unemployed and wish to learn new skills.
The Arrowhead Economic Opportunity Agency (Itasca, Koochiching, Lake and St. Louis counties), Central Minnesota Jobs and Training Services (Aitkin and Carlton counties), and Duluth Workforce Development (City of Duluth) provide this service in Northeast Minnesota. Not only does this program help transition older workers to needed jobs in the region, it can benefit businesses who partner with this program to offer different job opportunities to help alleviate their hiring demands.
The Minnesota Job Skills Partnership Program coordinates businesses and educational institutions to train or retrain workers, expand work opportunities, and keep high-quality jobs in the state. Recently, Fond du Lac Tribal and Community College and Sappi Fine Paper partnered up and received a $350,000 grant from the Minnesota Job Skills Partnership Program to help address problems associated with workers who retire. 
A business who faces a wave of retirees not only needs to replace the outgoing workers by hiring new workers, it also has to replace the knowledge and abilities leaving with the experienced retiring workers. To help this transition, the Cloquet Paper Mill and the local community college are developing an in-house training system for Sappi employees and then teaching them how to use it.  The computerized, user-friendly system will be used to identify, document, and transfer employees' knowledge so that critical information can be passed on from retiring workers to new hires, making the transition smoother for the employer and potential employees.
With a tightening labor market and an older labor force, we expect to see many different workforce development strategies to deal with the demand of the local economy, and we will continue to monitor the situation here at the Local Look and highlight those initiatives in the region.
For More Information
Contact Erik White at 218-302-8413