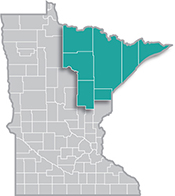 December 15, 2015 - As the holiday season approaches in anticipation of winter, noticeable changes in the local job market continue. The latest Job Vacancy Survey results indicate a tightening labor market, and recent headlines announced historically low unemployment for the city of Duluth. Despite more layoffs in the mining industry affecting the region's economy, Northeast Minnesota still has plenty of job opportunities.
There were more than 6,200 job openings reported in the most recent Job Vacancy Survey in Northeast Minnesota, the second highest number ever recorded. Currently, the ratio of job seekers per vacancy has dropped to 1.5, as there were 6,213 job vacancies in the 2nd quarter of 2015 and 9,251 unemployed workers in the Arrowhead region. During the 2nd quarter of 2009, there were only 1,518 job vacancies in Northeast Minnesota. At the same time, there were 17,806 unemployed workers in the region, creating a ratio of 11.7 job seekers per job vacancy. The tightening of the labor market has created an environment that favors the job seeker (Figure 1).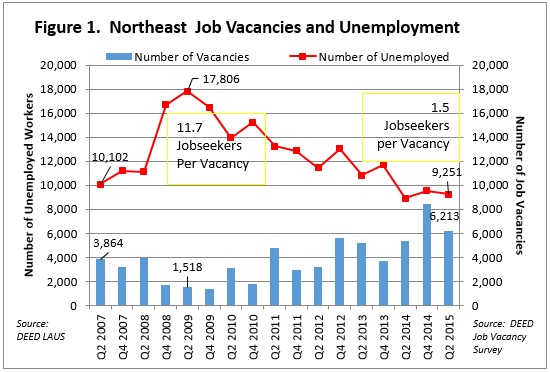 Because of the smaller pool of job seekers, businesses in the region are competing with one another to attract and retain these available workers. Recent data from the Job Vacancy Survey shows that the median wage offer rose to $11.53, a $2.00 increase compared to the offer for vacant jobs in the 2nd quarter of 2013.
Anecdotally, wage increases and hiring bonuses are being marketed to attract applicants to open positions, especially for low-wage positions such as retail cashiers or food preparation workers. Incentives for current workers are also being offered, such as a health care facility offering a new car to an employee who had perfect attendance during the month. These actions suggest a changing labor market in which attraction and retention of workers is key.
If your business is struggling to get applicants for open job positions, the local WorkForce Centers and the business services representatives located regionally can be of great assistance. They can post your job openings to MinnesotaWorks, the state's free online job bank, and find candidates within the database. They can also set up hiring events at the WorkForce Centers, provide recruitment and retention strategies, tell you about tax credits and hiring incentives, and offer most of these services at no cost to your business. To contact a business services representative, call 1-888-GET-JOBS or visit mn.gov/deed/bsr.
For More Information

Contact Erik White at 218-302-8413.