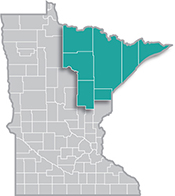 October 20, 2015 - The moment northeast Minnesota's vast timber stands come into view, no one is surprised to learn that paper is king of the region's manufacturing industries.
But there's genuine amazement that the rustic Northwoods are also home to a cluster of manufacturers that build highly sophisticated machines used in a wide variety of other manufacturing processes and operations.
Some companies even make machines that make other machines. Cool, huh?
Machinery manufacturing is one of the area's most important sub-sectors, helping not only other manufacturing industries but the region's significant mining and construction industries. This manufacturing specialty is also a vital source of jobs.
Last year, there were 1,134 positions at 31 different companies classified as machinery manufacturers in the northeast. That made up 13.3 percent of all manufacturing jobs in the region, with only paper manufacturing providing a larger share of manufacturing jobs.
The machinery manufacturing sub-sector has gained 172 net new jobs since 2010. That's remarkable employment growth for this niche when you consider that all manufacturing industries combined gained a total of 214 jobs in the region over the same period.
Typical occupations in the industry include CNC (computer numerical control) machine tool operators, engine and other machine assemblers, machinists, mechanical engineers, team assemblers, tool and die makers, welders, cutters, solderers, and brazers. Several of these rate five stars in our Occupations in Demand Tool, meaning that they are jobs in very high demand in the region.
With a long list of high-wage and high-demand occupations, expect machinery manufacturing to continue to make a considerable impact on the region's economy.
For More Information

Contact Erik White at 218-302-8413.