A Major Milestone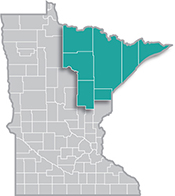 July 2016 - After six years of slow but steady recovery, Northeast Minnesota's economy reached a major milestone in 2015, surpassing its pre-recession count of jobs. Arrowhead employers reported 142,526 jobs in 2015, which amounted to 100 more jobs than the region's pre-recession peak of 142,425 jobs in 2007.
After losing over 5,600 jobs during the recession, Northeast Minnesota employers have now regained all the jobs lost and climbed to a new employment high in 2015. After growing slowly from 2009 through 2012, the biggest gains occurred in the past three years (Chart 1).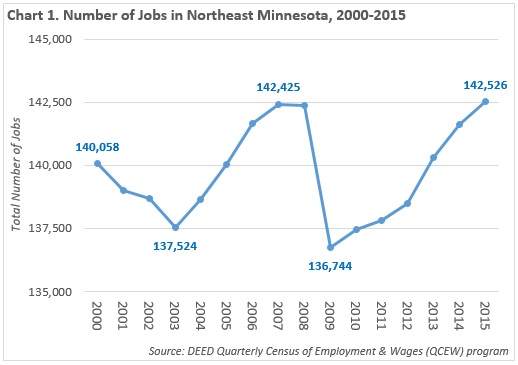 Data from DEED's Quarterly Census of Employment and Wages (QCEW) shows that the state reached its breakeven point in 2013, led by strong growth in the Northwest, Southeast, Twin Cities and Central. With the recent growth in the Arrowhead, only the Southwest region is still below its pre-recession employment peak.
Using data from all establishments covered by the state's Unemployment Insurance program, which covers about 97 percent of Minnesota employment, QCEW is a census of employment and wages that provides data by industry and ownership type at the state, region, county, and minor civil division level. The data shows that five of the seven counties in the Arrowhead gained jobs since 2011, with just Lake and Koochiching counties showing decreases. Carlton and Cook experienced more than a five percent increase in covered jobs in the past five years, with Carlton adding 752 and Cook increasing by 221 jobs. St. Louis County has more than two-thirds of all the jobs in the region and also has the highest average annual wage at $43,004. In the last year, St. Louis County gained 789 jobs and increased employment by 4.1 percent since 2011, with 3,800 jobs added (Table 1).

QCEW also allows examination of employment and wage data by specific industry. In Northeast Minnesota, Health Care and Social Assistance is the largest industry with 33,088 jobs, or 23.2 percent of all jobs in the region, also providing more than $1.5 billion in payroll in 2015. The Construction industry gained 1,165 jobs in the last five years, including 315 since 2014, and has grown by more than 20 percent since 2011. Likewise, the Professional, Scientific, and Technical Services industry also grew by more than 20 percent since 2011, with 778 covered jobs gained. Retail Trade and Accommodation and Food Services make up about 23 percent of all jobs in the region, but their average annual wages are considerably lower than average annual wage for all industries in Northeast Minnesota (Table 2).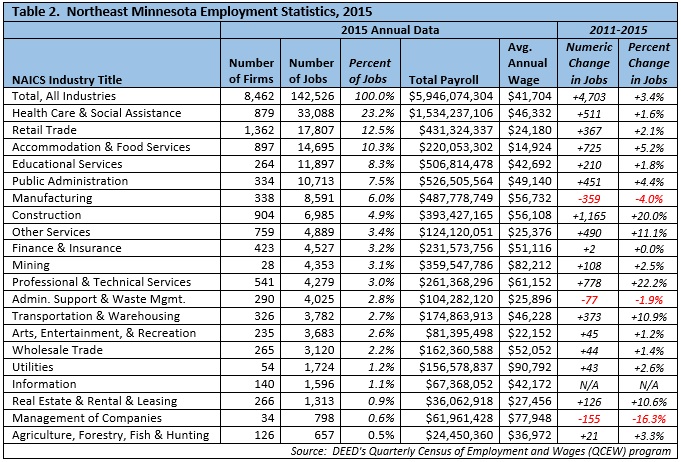 For More Information
Contact Erik White at 218-302-8413