Employment Recovery, Business Loss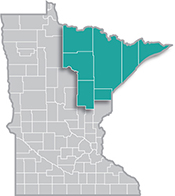 June, 2016 - Recent national analysis from the Economic Innovation Group found that business formation in small towns and rural communities was less likely than in the past, and that much of the growth of new businesses during the recovery from the 2009 recession occurred in metropolitan areas.
Intrigued by that idea, we used Quarterly Census of Employment and Wage data – which includes all businesses and employment covered by the Unemployment Insurance program – and found that Northeast Minnesota lost 654 businesses from 2010-2014, despite recovering more than 4,160 jobs during this time frame.
St. Louis County, the largest county in the region by size and population, experienced a net loss of 396 establishments from 2010-2014, a 7 percent decrease, despite gaining nearly 3,000 jobs. In fact, all seven counties of Northeast Minnesota witnessed a decrease in the number of firms, while five of the seven counties had employment gains. The state as a whole netted 939 new businesses, a 0.6 percent increase, while gaining more than 165,983 jobs during this time frame (Table 1).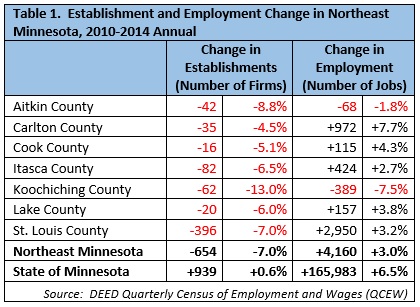 When breaking down the changes by industry, the same picture of employment gains and business losses remains. In the planning region, there were 146 fewer construction businesses in 2014 than in 2010, despite more than 1,000 new jobs. Public Administration had 20 percent reduction in the number of firms in the region, but still managed to add new jobs. With the exception of Other Services, every super-sector recorded a reduction in establishments from 2010-2014, but a rise in jobs (Table 2).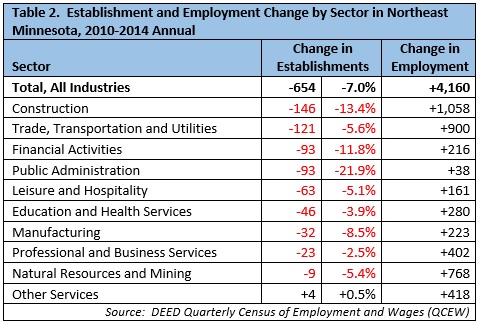 Further, we used the Census Bureau's County Business Patterns dataset to examine the change in the number of businesses in Northeast Minnesota by the classification of size of business by the number of employees. More than half of all businesses in Northeast Minnesota have one to four employees, but this size class experienced the sharpest decline from 2010, with 322 less establishments. Those with five to nine employees stayed stable over the time period, while those with 10 to 19 employees decreased just 3.1 percent. Businesses with 20 to 49 employees had the greatest numeric gain, with 38 net new businesses in this classification in 2014. The largest employers in the region also saw increases: There were 14 net new businesses with 100 or more employees in 2014 than there were in 2010 (Table 3).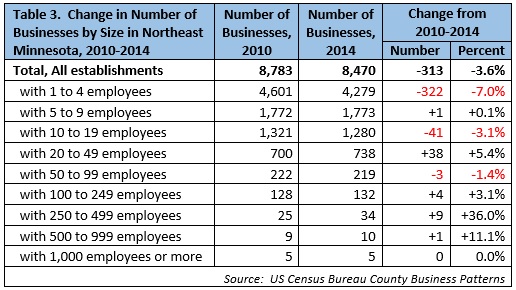 While the gain of jobs during the economic recovery following the recession has garnered a lot of discussion, understanding the transformation that businesses have undergone also leads to valuable insight. Despite job gains in Northeast Minnesota, every county had a loss in the number of businesses, every sector was impacted, and small businesses have seen the biggest drop while establishments with more than 100 employees have increased considerably.
Continue to check the Local Look as we explore this topic.
For More Information
Contact Erik White at 218-302-8413