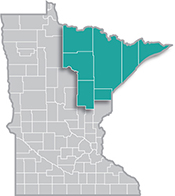 February 9, 2015 - Community colleges have been making headlines since President Obama recently announced his proposal to make two years of community college free for responsible students.
Even if the President's proposal ultimately is unsuccessful, students will find community colleges are an affordable option.
They cost less than four-year universities, require fewer credits to earn a degree, and still lead to rewarding and well-paying jobs.
With cost, time commitment, and expected outcomes to consider, the pursuit of higher education is both an important and a challenging decision for individuals to make. In our growing, global economy, community and technical colleges are increasingly essential in developing a workforce with the skills necessary for success.
Several of the highest demand jobs in Northeast Minnesota require an associate's degree, including the top occupation in demand: registered nurses.
Electrical and electronics drafters, engineering technicians, computer network support specialists, and web developers also made the list of the region's top occupations in demand. Various health care positions also appear, including respiratory therapists, cardiovascular technologists, occupational therapists, and physical therapy assistants. All of these jobs pay more than $40,000 per year.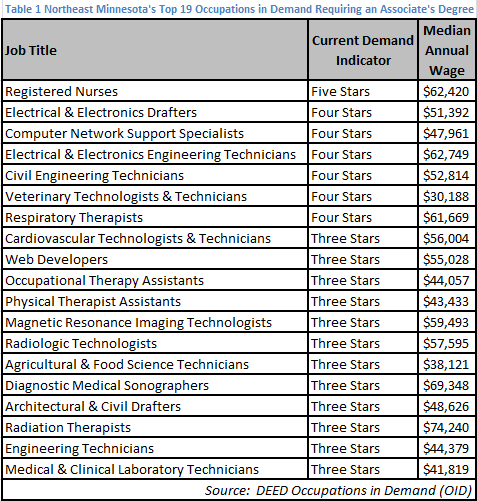 This Tool Can Help You See Your Future

Pondering your future career and post-secondary education? Our Occupations in Demand tool is a a must-use tool for any prospective college student. It allows you to see current demand and median wages for all kinds of occupations, as well as identify which local community and technical colleges provide related educational programs.
Looking for the right school? Here a list of different associate degree programs have had great success placing graduates into well-paying jobs, generated by our Graduate Employment Outcomes tool.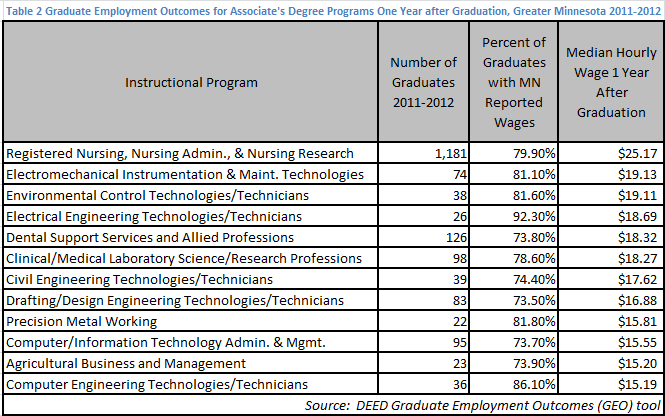 Undeniable Impact
Seven community and technical colleges in Northeast Minnesota (located in Duluth, Cloquet, Hibbing, Grand Rapids, Vermillion, International Falls, and Virginia) have been an integral part of the region's economy.
Responding to growing demand for health care services in the region, registered nurse programs graduated nearly 1,200 people in 2011-2012, bout 80 percent of whom reported a median hourly wage of $25.17 one year after graduation. Likewise, several other programs that trained workers for jobs in demand in the region saw relatively high placement rates and wages.
For More Information
Contact Erik White at 218-302-8413.