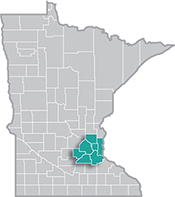 December 24, 2015 - The American Community Survey (ACS) has been a go-to source for several Twin Cities' blog posts in 2015. This should come as no surprise, as the ACS surveys local areas on demographic, housing, social, and economic data every year to provide timely population and labor force data that works in conjunction with DEED's labor market information. ACS data can be used by government agencies, businesses, nonprofit organizations, community groups, emergency planners, educators, journalists, and the public for further understanding their local areas, the state of Minnesota, and the nation as a whole.
As recently as December 3, 2015, the U.S. Census Bureau released updated 2010-2014 five-year estimates. While newly-released data is noteworthy in itself, this is the first time in the ACS's history that five-year estimates do not overlap - the first set of five-year estimates from 2005-2009 are completely independent of the new 2010-2014 estimates. This provides a unique opportunity to analyze population and labor force trends for all local areas over time.
As of 2014, the Twin Cities metro had a total population of 2,920,637 people, making up 54.3 percent of Minnesota's total population. Over the course of the 2009-2014 estimates, this population increased by 128,581 people, a 4.6 percent increase (Table 1). As such, the Twin Cities grew at a faster clip than the state as a whole, which saw a 3.8 percent population expansion.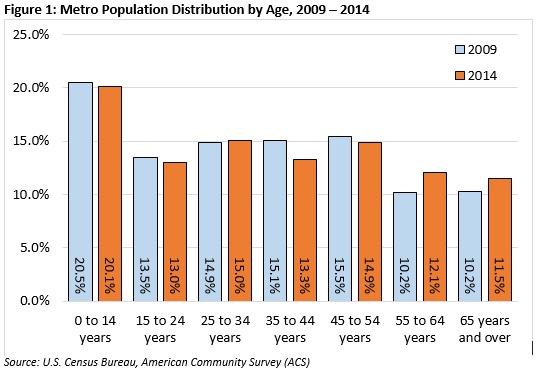 Overall, between 2009 and 2014, the largest growing county was Hennepin County, which gained nearly 48,000 people. This should come as no surprise, since Hennepin is easily the largest county in the state and comprises 40.5 percent of the metro's total population. However, the fastest-growing county was Washington, which expanded 8.2 percent between 2009 and 2014. Washington County gained over 18,500 people, and now makes up 8.4 percent of the metro's total population.
Other fast-growing counties in the Twin Cities metro include Scott County at 7.5 percent and Carver County at 6.8 percent. Interestingly, the three fastest-growing counties in the metro were also the smallest counties in terms of total population.
Ramsey and Dakota were the second and third largest counties in the metro, and like Hennepin, saw growth rates just over 4 percent from 2009 to 2014. Combined, they added about 37,000 new residents, and were now home to more than 925,000 people. Anoka County was the slowest-growing metro county, with its 3.0 percent rate of growth making it the only county in the metro that trailed the state's 3.8 percent growth rate.

Stay tuned for future blogs on this new ACS data, which will dig into demographic changes.
For More Information
Contact Tim O'Neill at 651-259-7401.