Leisure and Hospitality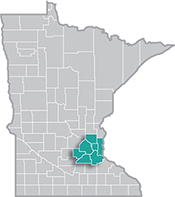 May 2016 - Well into spring, many Minnesotans are planning their summer vacations and getaways. Fortunately, Minnesota has a lot to offer for both residents and visitors during all seasons of the year. The list is nearly limitless, including museums, restaurants, biking, musical venues, professional sports teams, and of course, recreation on more than 10,000 lakes.
While not out exploring these attractions in person, you can explore statistics on the status of the leisure and hospitality industry through Explore Minnesota, the Minnesota Department of Employment and Economic Development (DEED), and the Minnesota Department of Revenue.
For starters, analyzing data from the Department of Revenue shows that leisure and hospitality industries generated $13.6 billion in gross sales in Minnesota in 2014. This is equivalent to more than $35 million every day. Additionally, sales at leisure and hospitality businesses grew 37 percent between 2004 and 2014, with five percent annual growth in 2013 alone. Zooming in, the Minneapolis-St. Paul Area generated over $9 billion in gross sales in 2014, or equivalent to more than $24 million every day. As such, the 10-county Minneapolis-St. Paul Area accounts for approximately two-thirds of the state's gross sales from leisure and hospitality businesses (Table 1).

Leisure and hospitality employment statistics can be gathered from DEED's Quarterly Census of Employment and Wages (QCEW) tool. Minnesota had 269,420 jobs within the leisure and hospitality industries, according to 2014 annual data. About 60 percent, or 162,151 leisure and hospitality jobs, are located in the seven-county Twin Cities Metro Area. While the bulk of these jobs, 81 percent, are within the Food Services and Drinking Places or Accommodation sectors, nearly 31,000 jobs are within Performing Arts and Spectator Sports; Museums and Historical Sites; and Amusement, Gambling, and Recreation.
Employment within leisure and hospitality has been rapidly trending upward over time. While the industry did shed 6,500 jobs within the Twin Cities between 2008 and 2010, it regained over 13,600 jobs between 2010 and 2014. In other words, employment within leisure and hospitality is 4.6 percent above its pre-recessionary peak. Comparatively, total employment is just 1.8 percent above its annual pre-recessionary peak.
With sales and employment both up significantly in recent years, things are looking bright for leisure and hospitality in the Twin Cities. While out on your next adventure – whether it's watching a sporting event, visiting a museum, or staying at a resort – remember how important these pastimes are to the Twin Cities' and Minnesota's economies.
For More Information
Contact Tim O'Neill at 651-259-7401.