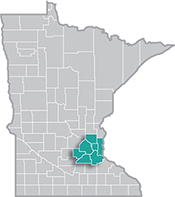 October 28, 2015 - While each region of the state has a strong and competitive core of manufacturing industries that provide high-paying jobs, economic growth and stability, no place has the sheer manufacturing size, muscle and punch of the Twin Cities Metropolitan area.

Overall, the seven-county Twin Cities metro region accounts for 53 percent of the state's total manufacturing employment, making it the industry's undisputed heavyweight champion. Here's a quick look at the top three manufacturing industries in the metro region.

Computer and electronics make up the largest manufacturing industry in the region. More than 35,184 people work in the sector, which also happens to have the second-highest average annual wage among the region's manufacturing sub-sectors at nearly $98,000. (Only petroleum and coal product manufacturing pays more at $109,044).

Slightly more than one-in-seven Twin Cities manufacturing jobs falls within the category known as fabricated metal products. More than 24,200 people work at nearly 850 companies welding, stamping, forging, bending and machining metal into components or finished products.

Miscellaneous manufacturing is an all too nondescript term for what largely consists of medical devices, equipment and supplies, an area of manufacturing expertise for which Minnesota is recognized the world over.

Medtronic, Boston Scientific, 3M and St. Jude Medical are among the medical device monoliths that spring immediately to mind. But there are nearly 600 medical device and equipment manufacturers in the Twin Cities, making the region one of the strongest clusters of its kind on the planet.

And it's no surprise that the vast majority of the state's medical device manufacturing (more than 75 percent) is ensconced in the metro region. This highly innovative niche employs well more than 17,000 people and accounts for 10.5 percent of the region's total manufacturing employment.

Taken together, computer and electronic products, fabricated metal products, and miscellaneous manufacturing account for 46.4 percent of the metro's total manufacturing employment. Other large manufacturing sectors include machinery manufacturing, printing and related services, and food manufacturing.
For More Information
Contact Tim O'Neill at 651-259-7401.