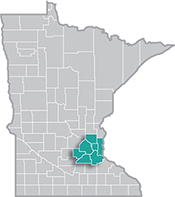 September 22, 2015 - There are numerous methods for analyzing local economies and occupations. Using the Department of Employment and Economic Development's (DEED) labor market tools can assist in many of these efforts. The following are a few examples of such tools:
Local Area Unemployment Statistics (LAUS): Provides labor force, employment, and unemployment estimates, which can be used for planning and budgetary decisions, as well as the need for employment and training services.
Occupational Employment Statistics (OES): Shows employment and typical wages by occupation within the regions and state of Minnesota. Can provide a wage-setting benchmark for employers, as well as job search and career planning information for job seekers and employment counselors.
Cost of Living Calculator: Provides a yearly estimate of the basic needs cost of living in Minnesota, for individuals and families, by county, region, and statewide. Costs are broken down into seven categories: food, housing, healthcare, transportation, child care, other necessities, and net taxes.
Using labor market tools in concert can yield a more complete picture of the health of a local economy, and can also help job seekers understand the realities of particular occupations. Let's take welders as an example. 
Using DEED's OES tool, one can discover there are approximately 2,870 welders within the Seven-County Metro, and that they earn an average hourly median wage of $21.24. When combining this data with DEED's Cost of Living tool, it's realized that welders within the metro earn more than the hourly earnings needed to support a family of three, $17.92.
Also from OES, one can see that the overwhelming majority of welders are employed within the manufacturing industry sector. Further, a significant portion are employed within fabricated metal manufacturing and machinery manufacturing. This knowledge can reveal more on the environment for welders within the metro. For example, using DEED's Quarterly Census of Employment and Wages (QCEW) tool, one can discover that fabricated metal product manufacturing has been the largest-growing manufacturing subsector in the Twin Cities since the end of the Great Recession. Combined, fabricated metal product manufacturing and machinery manufacturing have accounted for nearly half of total manufacturing growth since 2010. The demand for welders, as such, is high.
Beyond current realities and recent trends, one can also use DEED labor market tools to examine projections. Projections are available for both industries and occupations. Continuing with our example, one looking up welders would find that the occupation is anticipated to grow by nearly six percent through 2022, equivalent to 940 total openings.
Of course, looking up all of this labor market information can be a time-consuming process. In fact, DEED has over 20 labor market information tools! To streamline career exploration, DEED has developed a new Career Profile tool. After selecting a region and an occupation, users of this tool can look up everything from wages to educational requirements to projections without needing to leave the tool. Job seekers will also be able to reach out to Workforce Centers, and apply for jobs through this tool.
Here's a glimpse of the new Career Profile tool: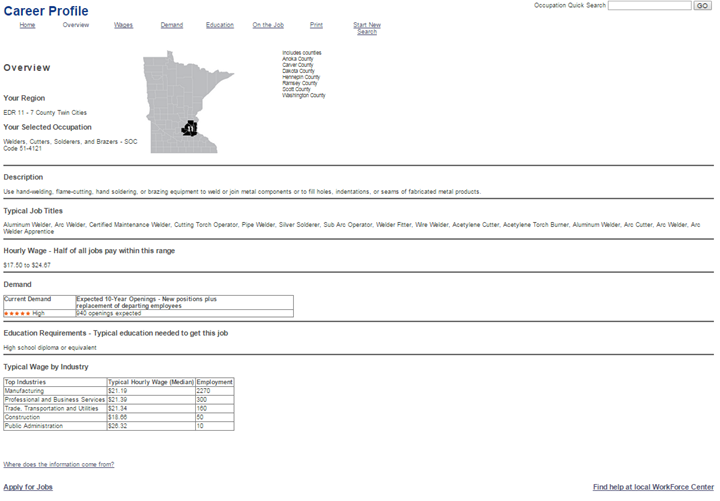 For More Information
Contact Tim O'Neill at 651-259-7401.