People Who Have Disabilities Widen The Talent Pipeline
Studies show that creative thinkers and innovators express a high interest in working for organizations that are known for diversity and inclusiveness. Studies also show that employees with disabilities not only add to the diversity picture, they bring competitive knowledge, new perspectives, and loyalty to the workplace, contributing significantly to the bottom line.

Employees Who Have Disabilities Are Talented And Educated
College graduates with disabilities debunk the myth that people who have disabilities are somehow less educated, and therefore less qualified, than their non-disabled coworkers.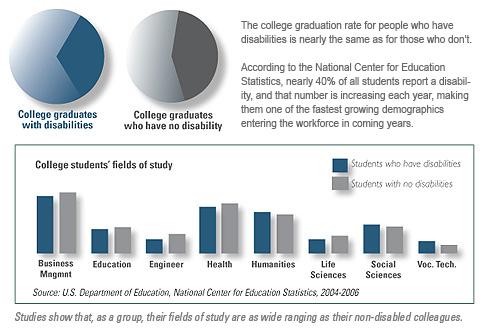 For more comprehensive information on how hiring people who have disabilities can attract talent through diversity for your business, visit The National Center for Education Statistics and use keyword 'college navigator.'