Juan Bolanos Residence
Location: Phillips Neighborhood, south Minneapolis
Weatherization Improvements: High efficiency furnace and water heater, attic air sealing and insulation, sealing rim joists, pipe insulation, programmable thermostat, exhaust fan, new carbon monoxide and smoke detectors, a new refrigerator, LED lights, and more.
Aging in Place services: New raised toilet, grab bars in bathroom, fire stops, and fall prevention education.
Weatherization Assistance Provider: Sustainable Resources Center, Minneapolis.
Juan Bolanos, 82, wants to age gracefully—in his own home. And thanks to the Sustainable Resources Center, he's doing just that.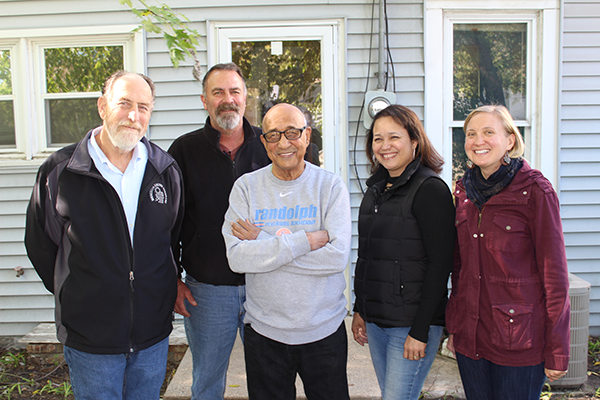 Weatherization recipient Juan Bolanos (center) of south Minneapolis posed with members of the Sustainable Resources Center team, including, left to right, Dan Roberts, weatherization coordinator; Gary Simonson, energy auditor; Madelyn Flores, administrative assistant ; and Lauren Kvasnicka, Aging in Place manager.
Like the many Minnesotans over the age of 65, Juan wants to stay in his own home, located on the near south side of Minneapolis. But when his house, built in 1900, faced a number of challenges, including aging appliances and safety issues, he knew he needed help. He could not afford several thousand dollars for a new furnace and water heater, so he turned to the Sustainable Resources Center (SRC), the nonprofit agency in Minneapolis that provides weatherization and other services to people of need in Hennepin County.
Having qualified a few years ago for the state's Energy Assistance Program (EAP) to help pay his heating bills, Juan also qualified for EAP's companion program, Weatherization Assistance. A complete energy audit was conducted of his home and several energy upgrades were recommended. In late fall of 2016, Juan's home received a complete energy overhaul—including a new furnace and water heater, attic air sealing and insulation, a programmable thermostat, and much more.
"I am tremendously grateful for all the work on my home," said Juan. "Before the energy improvements, my home was cold and drafty. But now it is much more comfortable and safe, and I'm saving over $20 a month on my heating bills."
For 42 years, the state's Weatherization Assistance Program, administered by the Minnesota Department of Commerce in partnership with 24 local service providers, has been providing life-changing services to thousands of Minnesotans who simply can't afford to make major home energy improvements. The program serves financially strapped residents like Juan who struggle with high energy bills. It gives priority to the elderly, disabled, families with children, and those with the highest energy bills.
Juan was a perfect candidate for weatherization. The energy audit performed on his home by SRC's Gary Simonson revealed significant air leaks, poor insulation, and an aging and inefficient furnace, water heater and refrigerator: all key contributors to high energy bills. Safety issues such as a cracked heat exchanger and gas leaks were detected. Simonson authorized various weatherization services, repairs, and replacements, including:
A new 96% efficient furnace
A new high efficiency, power-vented water heater
Attic air sealing and R19 cellulose insulation
Air sealing around the rim joists
Exhaust fan
Pipe insulation
Programmable thermostat
New carbon monoxide detector and smoke alarms
New refrigerator
LED lights
All the improvements made for a tighter, safer, and more efficient home. Simonson estimates energy savings of about 25%.
Maximizing benefits via coordinated services
SRC was able to coordinate with the local utility low-income Conservation Improvement Programs (CIP) to pay for the major appliances. CenterPoint Energy paid for the furnace and water heater, while Xcel Energy's Home Electric Savings Program funded the new refrigerator and LED bulbs.
"What made Juan's experience with us a real success was that we were able to coordinate our weatherization services and the new appliances with the utility CIPs," said Dan Roberts, coordinator of Weatherization Services for SRC. "What's more, we were able to refer Juan to our Aging in Place program, which provided some valuable resources to make Juan's home more safe and well-maintained."
Aging in Place program
Thanks to Aging in Place, which is underwritten by a grant from the Minnesota Department of Human Services, Juan received two valuable assets to help prevent falls—an ADA-approved raised toilet and grab bars in the shower. The program also installed fire-stops above the stove and supplied a Home Care Kit of safe and easy-to-use household cleaning products. 
"Our energy auditor referred Juan to our program because of his age and because he was living alone," said Lauren Kvasnicka, Aging in Place manager. "Through our in-home assessment, we saw that Juan could receive some very simple yet very useful adjustments to his home. In addition, Juan attended our A Matter of Balance workshop, which helps improve a person's balance and reduce their fear of falling. He loved it so much, he is hoping to attend again."
Kvasnicka said Aging in Place has served about 140 people over the last two years and about half of those clients received weatherization services and were referred to the program by the SRC weatherization team.
SRC weatherization services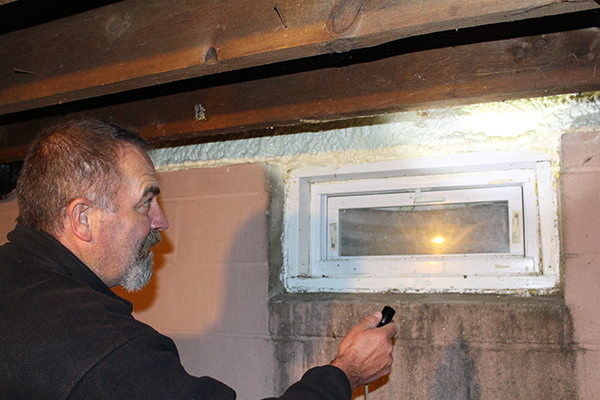 SRC auditor Gary Simonson showed where the basement rim joists were sealed with spray foam to help reduce air leakage.
SRC takes a whole-house approach to its Weatherization Assistance Program, with the goal of improving energy efficiency in order to lower energy bills. SRC administers the program for all of Hennepin County, including Minneapolis, with a focus on service to the elderly, people with disabilities, families with children, and households with a high energy burden.
For the past program year (July 1, 2017-June 30, 2018), SRC served 453 households with weatherization, including 1,500 individuals. Among those individuals served were 150 elderly, 138 disabled, and 631 children. The U.S. Department of Energy says the average household to receive weatherization services saves $283 per year on energy bills. To learn more about Sustainable Resources Center and its programs, visit www.src-mn.org or call 612-870-4255.
"The people at SRC have been so good to me," said Juan. "They are helping me live well in my home, and for that I am forever grateful.".
What Is the Weatherization Assistance Program?
/commerce/consumers/consumer-assistance/weatherization/index.jspThe Weatherization Assistance Program provides free home energy upgrades to income-eligible homeowners and renters to help save energy and make sure homes are healthy and safe. Authorized by the U.S. Department of Energy, Minnesota's WAP serves households at or below 200% of the federal poverty income guidelines ($50,200 for a family of four). Priority is given to households with elderly or disabled family members, children, or high energy consumption. In Minnesota, the program is administered by the Commerce Department in cooperation with a network of 24 local service providers. For the most recent program year (July 1, 2017-June 30, 2018), the program served 2,025 households statewide.
Low-income people can apply for weatherization assistance through a combined application with the state Energy Assistance Program (which helps homeowners and renters pay for heating bills). More information about the Weatherization Assistance Program is available by visiting the Commerce website. Applicants need to determine the local service provider in their area, fill out an application, and send it to their service provider.