The state's Weatherization Assistance Program (WAP) is best known for its energy-saving benefits to low-income Minnesotans, saving most households about $300 per year on their energy bills. However, Kathy, a single mom with two children from west central Minnesota, will tell you there's much more to WAP than sealing air leaks and adding insulation.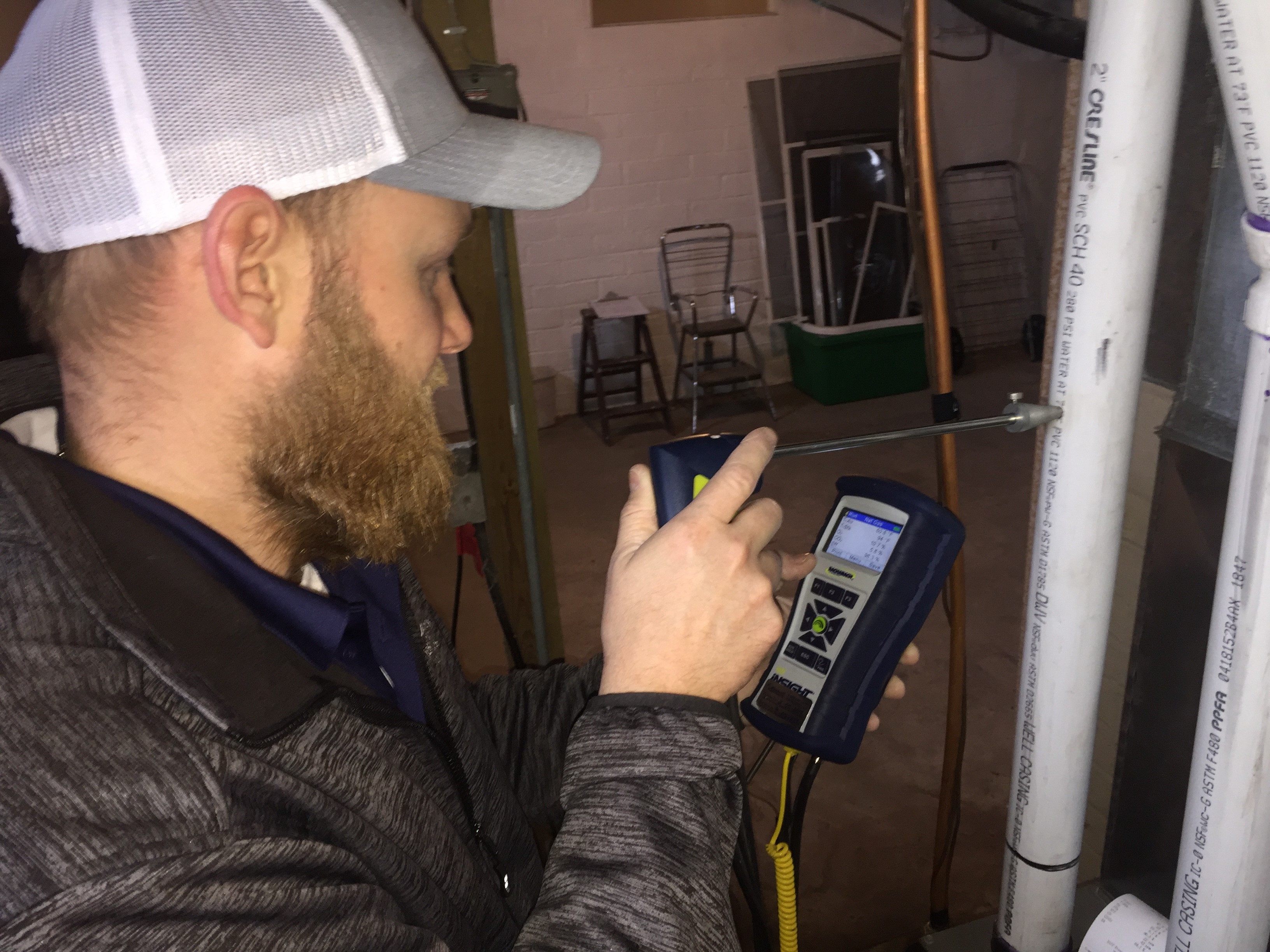 Weatherization auditor Gene Wyttenback checked the furnace flue for carbon monoxide levels while performing heating system safety testing of a home in west central Minnesota.
Kathy, owner of an early 1900's two-story home in Breckenridge, had been receiving Energy Assistance to help pay her utility bills. Her home was in great need of energy improvements and qualified for Weatherization Assistance. In January 2017, Kathy's service provider, West Central MN Communities Action, Inc. (WCMCA), told her that her home could not receive Weatherization because of vermiculite insulation in the attic. Weatherization crews could not work on the home until the potentially hazardous insulation, which may contain asbestos, was removed. Kathy could not afford $7,500 to remove the vermiculite.
Healthy AIR Program paves way for weatherization
One year later (January 2018), enter the Healthy AIR (Asbestos Insulation Remediation) Program.
Funding for Healthy AIR had just been established by the Minnesota Legislature. The program provides for the removal of vermiculate insulation and thus allows income-qualified clients to receive weatherization services. WCMCA helped Kathy acquire a Healthy AIR grant to remove the hazardous insulation, which opened the door for weatherization.
But before workers began vermiculite removal, WCMCA auditor Gene Wyttenback, during his energy audit, detected a serious problem in Kathy's home. While testing the furnace, the carbon monoxide (CO) reading in the flue (or exhaust vent) was measured at 2,371 parts per million (PPM), which is about 20 times higher than normal and signals an immediate problem. Wyttenback found that the heat exchanger of the furnace was cracked and was spewing CO. "When I removed the combustion analyzer, my personal CO badge that measures ambient air went off due to the high CO leakage in the flue pipe," said Wyttenback. "My CO detector reading was at 35 PPM and it continued to climb well over 50 PPM. I immediately shut off the unit and called our office to respond to this dangerous situation."
The furnace was red-tagged and shut down. The sheriff's office came out and provided electric space heaters to temporarily heat the home. WCMCA arranged funding and replaced the furnace with a new high efficiency unit.
Even before an audit was completed and energy upgrades were identified, the WCMCA Weatherization team had addressed two serious health issues: a faulty furnace and vermiculate attic insulation.
Protecting against CO poisoning
Wyttenback said the vermiculite insulation can pose serious long-term health consequences for the homeowner and anyone who comes in contact with the insulation materials. But the CO levels from the failing furnace pose a more immediate health hazard. CO is an odorless, invisible toxic gas that can occur whenever fossil fuel combustion takes place. It can cause flu-like symptoms and at elevated levels can lead to unconsciousness and death.
Kathy's teenage daughter, who slept in a room adjacent to the furnace, had experienced headaches for several weeks before the furnace was replaced. People exposed to CO at levels of about 100 PPM often experience headaches. After the new furnace was installed, her headaches went away. The room near the furnace was equipped with a CO detector before the new furnace, but the batteries had worn out and the detector wasn't working.
Kathy is forever grateful to WCMCA, especially for protecting the health of her family. After her furnace was replaced, the audit was finalized and the home went on to receive Healthy AIR and Weatherization services. Her home received air sealing, attic and wall insulation, rim joist insulation, LED lighting retrofits, pipe insulation, bath fan and venting, dryer venting, and new CO detectors and smoke alarms.
"Everybody from West Central MN Communities Action worked so well together," said Kathy. "They were very professional. I didn't expect to receive so much. I never could have afforded all that they did, even the new CO and smoke alarms. They did me a humongous favor; it was a godsend."
Homes like Kathy's are not uncommon. Virtually every Weatherization auditor in the state has a CO story. Ben Tucker, Training and Technical Assistance Specialist with the state WAP and a former energy auditor, arrived for an energy audit at a home in New Brighton several years ago.
"The customer told me she had been suffering from an undiagnosed debilitating chronic health condition," he said. "She had been to doctor after doctor with no improvement and hadn't been able to work for years. She said that emergency responders had been to her home multiple times but hadn't been able to determine what was wrong. When I tested the furnace, the carbon monoxide was very high, but then I found something much worse. The bottom of the chimney flue was completely corroded and had gaping holes that were dumping CO from the furnace and water heater exhaust into the home. It was a sobering moment to consider how much grief she had suffered from poison air in her home, but knowing we would be able to install a safely venting furnace and that she would be able to focus on getting better was a great feeling."
Tucker said cases like this one demonstrate the important role that Weatherization plays in protecting the health and safety of clients. Every home receives a comprehensive safety assessment; a list of auditor tasks or authorizations follows:
Perform heating system safety testing;
Perform combustion appliances safety testing;
Repair and replace ventilation systems for combustion gas draft safety;
Install new smoke and CO detectors as needed;
Evaluate mold and moisture hazards;
Provide client education on CO, mold and moisture, fire safety, indoor air pollutants, and lead paint and radon.
"We take a whole-house approach to every home we serve," said Wyttenback. "In Kathy's home, the vermiculite removal gave us a clean attic and clear path to air seal the attic, and we were able to reduce air infiltration by 30%. The energy-savings we provide is always great to see, but most gratifying is ensuring the safety of our clients and improving the quality of life for people who simply can't afford to pay for it all."
For more on CO dangers and preventing CO in your home, see the Commerce Department's Home Energy Guide pdf (page 28) and the Minnesota Department of Health website. Learn more about WCMCA's Weatherization Assistance Program.
CO levels and corresponding health effects

| | |
| --- | --- |
| CO Level | Health and Safety Effects |
| 0 PPM | Normal, fresh air. |
| 9 PPM | Maximum recommended indoor CO level (ASHRAE). |
| 10-24 PPM | Possible health effects with long-term exposure. |
| 25 PPM | Maximum time-weighted exposure for 8-hour workday (ACGIH). |
| 50 PPM | Maximum average level of continuous exposure in 8-hour workday (OSHA). |
| 100 PPM | Slight headache after 1-2 hours. |
| 200 PPM | Dizziness, nausea, fatigue, headache after 2-3 hours of exposure. |
| 400 PPM | Headache and nausea after 1-2 hours of exposure; life threatening in 3 hours. |
| 800 PPM | Headache, nausea, and dizziness after 45 minutes; death within 2-3 hours. |
| 1000 PPM | Loss of consciousness after 1 hour of exposure. |
| 1600 PPM | Headache, nausea, and dizziness within 20 minutes; death within 1 hour. |
| 3200 PPM | Headache, nausea, and dizziness after 5-10 minutes; death within 1 hour. |
| 6400 PPM | Death within 30 minutes. |
| 12,000 PPM | Death within 1-3 minutes. |
What Is the Weatherization Assistance Program?
The Weatherization Assistance Program (WAP) provides free home energy upgrades to income-eligible homeowners and renters to help save energy and make sure homes are healthy and safe. Authorized by the U.S. Department of Energy, Minnesota's WAP serves households at or below 200% of the federal poverty income guidelines. Priority is given to households with elderly or disabled family members, children, or high energy consumption. In Minnesota, the program is administered by the Commerce Department in cooperation with a network of 23 local service providers. Minnesota's WAP generally serves more than 2,000 households each year.
Low-income people can apply for weatherization assistance through /commerce/consumers/consumer-assistance/energy-assistance/eap-tsev.jspa combined application with the state Energy Assistance Program (which helps homeowners and renters pay for heating bills). /commerce/consumers/consumer-assistance/weatherization/index.jspMore information about the Weatherization Assistance Program is available by visiting the Commerce website. Applicants need to determine the local service provider in their area, fill out an application, and send it to their service provider. Check the WAP website or call 1-800-657-3710 to determine your service provider.