Welcome to Renewable News, where you will find the latest news and information on a wide range of renewable energy topics.
Renewable News
Governor Walz proposes plan to achieve 100% clean energy in state by 2050
Governor Tim Walz and Lieutenant Governor Peggy Flanagan on March 4 announced their One Minnesota Path to Clean Energy—a set of policy proposals that will lead Minnesota to 100% clean energy in the state's electricity sector by 2050. The policies build on the success that Minnesota has already achieved in reducing dependence on fossil fuels and increasing the use of clean energy resources to power the state while ensuring reliable, affordable electricity.
"Climate change is an existential threat," Walz said. "We must take immediate action. If Washington won't lead, Minnesota will. That is why I am proud to announce a set of policy proposals that will lead Minnesota to 100% clean energy in the state's electricity sector by 2050. These proposals would put us at the forefront of addressing climate change. Minnesota will pioneer the green energy economy—creating jobs while protecting our planet for generations to come."
Walz's One Minnesota Path to Clean Energy has three parts:
100% Clean Energy by 2050. This standard would require all electric utilities in Minnesota to use only carbon-free energy resources by 2050, while allowing each utility the flexibility to choose how and at what pace they meet the standard. The proposal includes provisions to assist workers and communities affected by the transition, while prioritizing local jobs and prevailing wages for large new clean energy projects.
Clean Energy First. This regulatory policy would require that, whenever a utility proposes to replace or add new power generation, it must prioritize energy efficiency and clean energy resources over fossil fuels. This policy would strengthen an existing renewable energy preference in Minnesota law, and it would allow for fossil fuel-based power only if needed to ensure reliable, affordable electricity.
Energy Optimization. This proposal would raise Minnesota's Energy Efficiency Resource Standard for investor-owned electric utilities and expand the Conservation Improvement Program that helps Minnesota households and businesses save on their utility bills by using energy more efficiently. It would also encourage utilities to develop innovative new programs to help consumers and businesses switch to more efficient, cleaner energy. In addition, it would target more energy-saving assistance for low-income households.
Read more on the governor's proposal.
Commerce to provide Clean Energy Community Education grants
The Minnesota Department of Commerce State Energy Office (SEO) has developed a Clean Energy Community Education Grant Program to promote clean energy education at the community level. This small grants program is intended to increase participation in educational initiatives that promote the use of energy efficiency and renewable energy, address climate issues, and empower, inspire, and motivate a new generation of energy leaders—of all ages and backgrounds—in communities around Minnesota. The program will award up to 12 grants of up to $2,500 each to plan and implement energy education initiatives to be showcased within the Energy Exhibit at the Eco Experience of the 2019 Minnesota State Fair (Aug. 22-Sept. 2). A Request for Proposals (RFP) and required forms for the program are available for download on the Commerce RFP webpage.  Proposals are due April 1, 2019. Read more (pdf) about this grant opportunity.
Solar News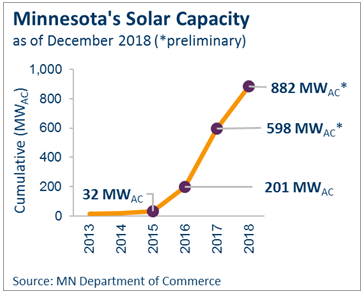 State's solar boom continues; solar capacity increases nearly 50% in 2018
For the third straight year, Minnesota enjoyed dramatic growth in electricity generated by solar energy during 2018, with a capacity increase of 47%, or 284 megawattsAC (MW), according to data compiled by the Minnesota Department of Commerce.  The great majority of the new solar came from 259 MW of community solar gardens, mostly community solar built for Xcel Energy customers. Minnesota went from 598 MWAC in 2017 to 882 MWAC by the end of 2018; that's enough energy to power more than 100,000 homes. Solar capacity was at just 1 MW in 2009 and increased to 32 MW in 2015, 201 MW in 2016, and 598 MW in 2017. Commerce projects that Minnesota will surpass 1 gigawatt (or 1,000 MW) of solar by the end of 2019. Read more.
Minnesota solar jobs increase 8% in 2018 despite 3% national decline 
The number of solar jobs in Minnesota has more than doubled since 2015, according to the National Solar Jobs Census 2018 released Feb. 12 by The Solar Foundation. Minnesota's solar jobs increased by 8% last year, even as solar employment nationwide declined by 3.2% compared to 2017. Minnesota now ranks 15th in the nation for total solar jobs. Solar is among the fastest-growing job sectors in the state, with "solar panel installer" the fastest-growing job in Minnesota last year, according to data from the Bureau of Labor Statistics. Read more.
Wind News
Minnesota ranks 7th in cumulative installed wind capacity for 2018
Minnesota, with 3,779 megawatts (MW), ranked seventh among all states for cumulative installed wind capacity as of the fourth quarter of 2018, according to the American Wind Energy Association (AWEA) U.S. Wind Industry Fourth Quarter 2018 Market Report. Minnesota's Palmer's Creek wind farm (Chippewa County) at 45 MW and the Stoneray wind farm (Pipestone and Murray counties) at 34 MW were two of the largest wind farms added to the grid in 2018. About 18% of Minnesota's electricity generation came from wind in 2018. The United States added 7.6 gigawatts (GW) of installed wind capacity in 2018, bringing the nation's total capacity to 96.5 GW, according to AWEA's report. The fourth quarter was one of the strongest on record, resulting in 47 new operational projects with a collective capacity of 5.9 GW.
Top 10 Wind States—Cumulative Installed Wind Capacity
Texas, 24,899 MW
Iowa, 8,422 MW
Oklahoma, 8,072 MW
California, 5,885 MW
Kansas, 5,653 MW
Illinois, 4,861 MW
Minnesota, 3,779 MW
Colorado, 3,706 MW
Oregon, 3,213 MW
North Dakota, 3,155 MW
Zero Energy Schools sessions offered at National Expo April 8-9 in Saint Paul
Minnesota schools looking to achieve zero energy in the coming years and interested school stakeholders will have an opportunity to learn more from zero energy school case studies and lectures, thanks to the national Green Schools Conference & Expo that will be held April 8-9 at the Saint Paul RiverCentre in Saint Paul. The conference will offer two unique zero energy school educational sessions to help a wide variety of school staff, including facility coordinators, administrators, and superintendents, as well as school stakeholders to learn more. For more on these two sessions and the overall conference, visit http://greenschoolsconference.org/. 
Schools can use state technical, financial assistance programs for EE and RE
Many schools in Minnesota are pursuing energy efficiency and renewable energy opportunities. To help advance clean energy goals, schools can tap several state resources, including the ones below:
B3 Benchmarking: B3, which stands for Buildings, Benchmarks, and Beyond, puts the power of building energy data in your hands. Using basic building and meter information, the online tool summarizes energy consumption, costs, and carbon emissions in easily digestible monthly and annual reports for Minnesota public buildings. The B3 tools and programs are designed to help make buildings more energy efficient and sustainable. B3 Benchmarking is one of five tools and programs. More information is available online about the B3 tools and programs. Contact support@b3benchmarking.com or 952-939-1878 for B3 Benchmarking support.
Local Energy Efficiency Program (LEEP): The Local Energy Efficiency Program, led by the Minnesota Department of Commerce, helps local units of government and school districts identify, study, implement, and finance energy efficiency and recommissioning projects. LEEP makes it easy to identify site-specific goals, find high-quality firms to perform an investment grade audit, and gain access to low-interest lease-purchase financing. Participants gain access to Commerce's technical assistance through each stage of the process, ensuring a comprehensive, cost-effective, quality project.
Guaranteed Energy Savings Program (GESP): The Commerce-led Guaranteed Energy Savings Program is a procurement and financing mechanism that assists state agencies, local units of government, school districts and institutions of higher education with the development, implementation and ongoing measurement & verification of energy efficiency and/or renewable energy projects. Participants gain access to technical assistance from Commerce, pre-qualified Energy Services Companies, Master Contract, selection and procurement documents, and GESP staff oversight for each phase of the project that can last up to 25 years. The intent of the program is to maximize job creation and operational cost savings through investment in public facilities. For more information on GESP and LEEP, contact energysavings.programs@state.mn.us or 651-539-1886 or 1-800-657-3710.
KidWind's MN Renewable Energy Challenge blows into Saint Paul on April 13
The Minnesota Renewable Energy Challenge, a regional competition of the KidWind Challenge, will be held from 8 a.m. to 4 p.m. on Saturday, April 13 at Metro State University's Education Science Center (664 E. Sixth Street) in Saint Paul.
The Renewable Energy Challenge involves student teams who build functioning wind turbines and solar-powered structures and showcase and test the performance of their turbines and structures to a panel of judges. The top teams from the regional competition advance to the national KidWind Challenge. Teachers and students who want to enter a team can register now; information is available on how to participate in the KidWind Challenge.
Contact Mike Arquin to learn how you can get involved. Arquin is the founder of KidWind Challenge and a Minnesota resident. He started the renewable energy education competition in 2009 to help get students interested in pursuing renewable energy as a future career path. The MN Renewable Energy Challenge is made possible by KidWind, with support from the Saint Paul Public Schools, 3M, Metro State University, and the Minnesota Department of Commerce.
Red Wing passes resolutions supporting state's 2025 Energy Action Plan
The Red Wing City Council in February passed three resolutions with environmental focuses to support the state of Minnesota's energy goals, support housing energy efficiency improvements, and revise tax-increment financing to make it a more accessible tool for community development. The resolutions are consistent with the Minnesota 2025 Energy Action Plan that lays out strategies to reduce carbon emissions and improve the environment. Read more about Red Wing's actions.
Center for Energy and Environment, U of M earn DOE research grants
The U.S. Department of Energy (DOE) on Jan. 29 announced up to $42 million in project selections to support early-stage research and development (R&D) of innovative residential and commercial building technologies for energy efficiency. The technology developed from these early-stage R&D projects is designed to help consumers and businesses save energy costs and drive domestic economic competitiveness. Two Minnesota institutions—the Center for Energy and Environment (CEE) and the University of Minnesota—were among 46 research teams to obtain funding:
CEE received two grants: One for a project titled "The Integration of Wi-Fi Location-Based Sensing to Optimize Energy Efficient Commercial Building Operations." The research team will integrate beacon-based Wi-Fi location-based services into existing buildings to verify their energy savings and maintenance, commissioning, and integration requirements, as well as other building information. CEE's second grant is for "Aerosol Envelope Sealing of Existing Residences." The research team will use an aerosol envelope sealing technology to improve envelope airtightness of existing buildings by up to 90 percent.
The University of Minnesota received a grant for "Accelerating the Market Adoption of the Solid Panel Structural System and 'Perfect Wall.'" The research team will conduct comprehensive structural testing of a solid panel wall system that includes superior energy performance at reduced cost compared to conventionally framed houses. This project will also explore how the advanced single-family structural solutions can be adapted to multifamily buildings, enabling construction of more energy-efficient, affordable housing.
Ethanol industry adds $2.31 billion to Minnesota economy
Minnesota's ethanol industry contributed $2.31 billion to the state's gross domestic product (GDP) in 2018, according to a new study by ABF Economics. In 2018, Minnesota's ethanol producers produced 1.27 billion gallons of ethanol, 3.8 million tons of dried distiller's grains with solubles (a high-protein animal feed) and 283 million pounds of corn oil (which is used for biodiesel production). This in turn, the study said, generated $6.9 billion in gross sales for Minnesota businesses and supported 20,137 jobs in 2018. In comparison to 2017, the study said the industry's GDP contribution in 2018 grew 6.4 percent to $2.31 billion from $2.17 billion. The study (pdf) by ABF Economics was prepared for MNBiofuels.
Electric Vehicles
March 28 workshop to discuss EV best practices, resources, next steps
An electric vehicle (EV) workshop for city, county, utility, state agency, and other workers will be held on March 28 from 11:30 a.m. to 4 p.m. at the Como Park Zoo and Conservatory in Saint Paul. "EV-olution: Charging Ahead with Electric Vehicles in MN Communities" will look at EV best practices, tools and resources, and next steps in advancing EVs in communities. The workshop will feature work done over the past year by Cities Charging Ahead, a cohort of 28 communities. The workshop is coordinated by the Great Plains Institute and Clean Energy Resource Teams (CERTs). To register and to learn more.
********
Renewable News is a newsletter that covers a range of renewable energy topics, including innovative initiatives in our state, technological advancements, financial incentives, trainings, and events. If you would like to change preferences for the newsletters you are currently subscribed to or if you want to unsubscribe, please use the links at the bottom of this page.